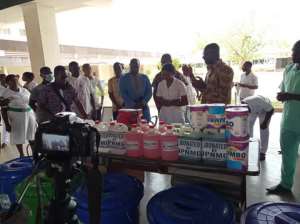 The Union of Professional Nurses And Midwives, Ghana (UPNMG) has donated some items to three hospitals to help fight the novel Coronavirus (Covid-19) pandemic.
The group donated to the Komfo Anokye Teaching Hospital, Tamale Teaching Hospital and the Wa Municipal Hospital.
Items including detergents, hand sanitizers, veronica buckets as well as toiletries were donated.
The UPNMG has been very supportive in this trying time of the outbreak of the coronavirus.
The group recently called on the government to ensure that all frontline health workers are provided with the appropriate PPEs in order to enable them deliver efficient healthcare to patients.
The professional body was also one of the groups that called for a lockdown of the country as a measure to stop the pandemic from escalating.
The UPNMG joins the list of companies, organisations and individuals who have made kind donations to help fight the Coronavirus pandemic.