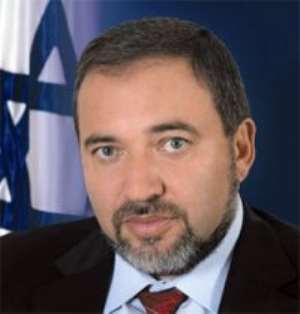 Deputy Israeli Prime Minister who is also responsible for Foreign Affairs Avigdor Lieberman has arrived in Accra, on a day's working visit to the country.  
He was met on arrival by Ghana's ambassador to Israel designate Henry Hansen Hall.  
Ministry of Foreign Affairs sources at the Airport said Mr. Lieberman will call on the President and hold consultations with the Minister of Foreign Affairs.  
He will also open an Economic forum in Accra today which will be attended by an advanced team of Israeli top business investors and industrialists who are already in the country.  
Mr. Lieberman will sign an agreement on the setting up of an aqua-culture industry in the country as well as cooperation in vital sectors of the economy like agriculture, animal husbandry and education.  
They will leave later today for Abuja Nigeria on the next leg of their visit.