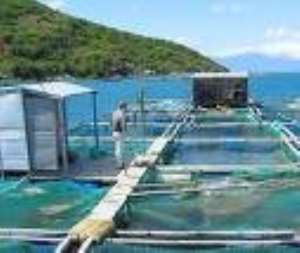 Mr Kwesi Ahwoi, Minister of Food and Agriculture, on Monday praised Israel's agricultural system, describing it as phenomenal. He explained that although Israel had no water, the people were capable of growing any crop whereas Ghana had abundant rain fall but had problems in the agricultural sector. Mr Ahwoi called for cooperation between the agricultural sector in Israel and the Ghanaian counterparts.
He made the call at a signing of cooperation agreement between Ghana and Israel in the area of aquaculture. The agreement was signed by Mr Avigdor Liberman, Israeli Deputy Prime Minister and Foreign Minister on behalf of his country while Alhaji Muhammad Mumuni, Ghana's Foreign Minister signed for Ghana. Mr Liberman arrived in the country this morning for a day's official visit.
Mr Ahwoi, pledging Ghana's continual cooperation with Israel, said government would ensure that Parliament ratified the cooperation plan signed in 2006 so that the two countries could cooperate in other areas including health, medicine, agriculture, education and to encourage existing trade relations between the two. Mr Mumuni reiterated the need for cooperation between the two countries and expressed the hope that the agreement would be translated meaningfully to the benefit of Ghanaian.
He said he was happy with the involvement of the private sector and assured the delegation of government's support.
"Government will provide the necessary environment to facilitate private business in Ghana," Mr Mumuni said.
Mr Liberman expressed the hoped that the agreement would improve and upgrade relationship between Ghana and Israel. He suggested that instead of countries trying to solve the world's problem, they should rather concentrate on building bilateral relations since it was probably the best way to achieve prosperity. Mr Liberman pledged Israel's commitment to the agreement and said his country was prepared to share knowledge and expertise in the area of agriculture.
His visit to Ghana formed part of eight-day official tour of five African countries including Ethiopia, Kenya, Nigeria and Uganda. He was accompanied by a high level delegation comprising senior officials and businessmen.