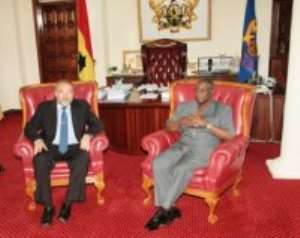 President John Evans Atta Mills on Monday dwelt on current reforms in Ghana's economic sector and threw a warm invitation to Israel to make Ghana a preferred investment destination for mutual benefits.
     
He was emphatic that any Israeli investment in Ghana would not go to waste but would inure to the benefit of the people of both countries.
     
President Mills extended an invitation to the Israeli business community to explore the investment opportunities in Ghana, assuring them of good yields on their investments.
     
President Mills extended the invitation when the Deputy Israeli Prime Minister Avigdor Liberman, accompanied by a business delegation on a day's official visit to Ghana, paid a courtesy call on him at the Castle, Osu in Accra.
     
The businessmen are from top Israeli companies, as well as some heads of departments of the Israeli Ministry of Foreign Affairs.
     
President Mills said the delegation had come at the right time when the Government was reforming the Ghanaian economy to make investment attractive.
He said the present Government was creating a conducive business atmosphere that was honest, open and transparent, to provide jobs and invest in the people.
     
President Mills welcomed Israel to assist Ghana with its expertise in the areas of agriculture, water, energy, tourism, medicine and health.
     
Mr Liberman lauded Ghana's democratic credentials and praised her for being the first country in Africa that recognised Israel's independence.
     
He said the two countries had enjoyed very good relations in the 1960s, 1970s and 1980s, and expressed the need for enhanced ties.
     
Mr Liberman said Israel would co-operate with Ghana and was ready to invest in the areas of water management, agriculture and medicine.
     
While in the country, Mr Liberman would also hold talks with Alhaji Muhammad Mumuni, Minister of Foreign Affairs, and sign an Official Plan of Agreement on Aqua-Culture.
     
Mr Liberman is also expected to open an economic forum at the Accra International Conference Centre, hold talks with Ghanaian authorities on corporation in vital areas such as agriculture, education and security.
Mr Liberman would leave Ghana later on Monday for Nigeria, where he is expected to sign an agreement on international cooperation with the Economic Community of West African States (ECOWAS) in Abuja.