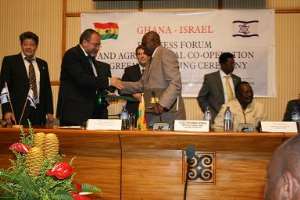 052: Ghana s Foreign Minister Alhaji Muhammad Mumuni, (right), exchanging the joint Declaration with Mr Avigdor Liberman, Deputy Prime Minister/Foreign Minister of Israel.
Accra, Sept. 7, GNA – Ghanaian entrepreneurs have assured their visiting Israeli counterparts of their readiness to collaborate in investment opportunities in agro-processing, energy, tourism and water sectors.
Currently, Israeli companies operating in Ghana have invested in agriculture, manufacturing, construction and services and at an economic forum in Accra on Monday, they agreed to establish joint ventures.
Mr. Tony Oteng-Gyasi, President of Association of Ghana Industries (AGI), said the visit was timely to seek new opportunities and improve business between the two countries.
However, he said it was time to establish manufacturing and trade relationship for their mutual benefit.
Mr. William Atta Krofah, President of Ghana Chamber of Commerce and Industry, assured the Israeli businessmen of the safety of their investments because government policies and laws were against forceful seizure of investment.
He said in addition, there were constant dialogue between government and the private sector to improve the business climate.
Mr. Augustine Acheampong Otoo, Director of Global Business, Ghana Investment Promotion Centre (GIPC), said the stable political environment, abundant and well trained labour and tax incentives made Ghana a viable investment destination.

He said opportunities existed in the energy sector with government's determination to improve supply throughout the country from the current 3,000MW to 5,000MW by 2015.
There are also opportunities in the oil sector, especially the supply of gas from the Jubilee field, water treatment and distribution, agro-processing, Information and Communication Technology (ICT) and tourism.
Mr Arie Zief, Head of the 20-member Israeli business delegation, said the positive assessment of the environment in Ghana had opened a new door of business opportunities.
In another development, Mr Avigdor Liberman, Deputy Israeli Prime Minister and Foreign Minister who led the delegation arrived in Accra on Monday for a day's official visit.
Mr. Liberman held a meeting with his Ghanaian counterpart, Alhaji Muhammad Mumuni, and signed an agreement on aqua-culture.
He leaves Ghana for Nigeria later in the day, where he is expected to sign an agreement on international cooperation with the Economic Community of West African States (ECOWAS).
GNA