"You have a problem with yourself" - Christabel Ekeh slams David Oscar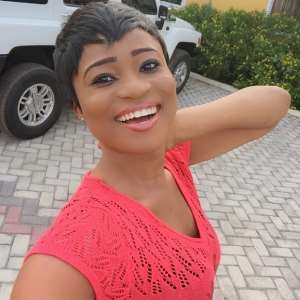 The brewing feud between two of Ghana's movie industry players, is becoming like a movie that unfolds daily. After David Oscar expressed his willingness to fund ace investigative Journalist, Anas Aremeyaw Anas, to investigate how "unqualified" actresses and radio presenters get jobs, Christabel Ekeh took it upon herself, to put him right, calling him to "stop this madness".
The two "PEEP" co-stars, have the population divided in opinions, as many think David Oscar overstepped his boundaries, and most think Christabel Ekeh is simply afraid of what Anas may unearth.
David Oscar, who was recently involved in a heated banter with Yvonne Nelson, seems to be playing the gentleman's card, as he called out Christabel,on micro-blogging site, Twitter. The actor asked his one-time on-screen lover, to openly tell the world what she's afraid of. Her reaction however fuels rumours that many actress sleep with producers for roles, and are afraid of what Anas' exposure may be.
The Actress took to Twitter to address David Oscar in a wrath filled tone. She referred to him as a joke and retorted that his only problem is himself. See tweet.