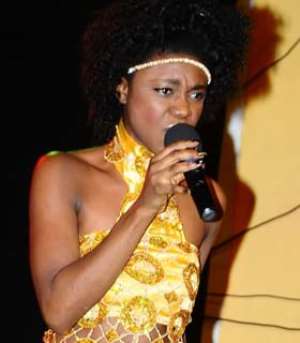 Becca
GHANA'S SENSATIONAL Afro pop singer, Becca,  who has gained so much prominence  and recognition not only here in Ghana but on the entire African  continent, is due to perform at Rhodes Park in Johannesburg, South Africa, from June 9 to 11.
The musical concert, which is being organized by African Village and will feature some selected top African music stars, is to welcome and entertain the football fans, prior to the tournament.
The line-up of artistes, by all indications, is one of the toughest, parading the likes of Maiway and Alpha Blondy from Cote D'Ivoire, and Kojo Antwi, Shasha Marley and Becca, all from Ghana, among other international stars.
It would be a tough call for anyone seeking competition, but Becca, Kojo Antwi and Shasha Marley, blessed with sweet yet powerful voices, are all ready to go 'gidigidi' and claim the title as the best performers.
This is an opportunity for Ghanaian music fans in South Africa, who have missed the live performances of these artistes, to witness another historic live music concert.
BEATWAVES is reliably informed that Becca and the others are excited about the concert, and are rehearsing feverishly towards the day, so as to give fans the best in them.
The live musical concert is expected to attract a large audience, including football fans who are in South Africa to witness the FIFA World Cup tournament.
 By George Clifford Owusu