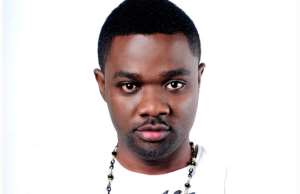 'Kokoma' crooner, Nobel Ezeh, better known as K9, has eventually hit the nail on the head as he denied speculations that he is having misunderstanding with his former record boss, Eldee.
K9 explained that his leaving Trybes records was strictly for career boost and there was no ill feelings between him and Eldee.
The artiste stated that he decided to part ways with Trybes record because his vision was not being realized under the label.
According to him, "Well, that was purely a business decision. I've heard rumours that Eldee and I are "beefing" each other. I don't know where anybody got that idea from. We got to a point where, just like in any other business, we had to part ways. I had to try and take charge of my career because the vision I had for it was not being realised under Trybe. That's it."
The French language graduate, further debunked viral claims that the director of the wave making song, 'Lord have Mercy,' was not paid for his services.
"Whaaat? That's ridiculous. There's absolutely no truth to that rumour. Money is paid in advance so the director can pay for locations, props, equipment, models, etc, and take care of whatever else needs taking care of. So, that rumour is ridiculously false."