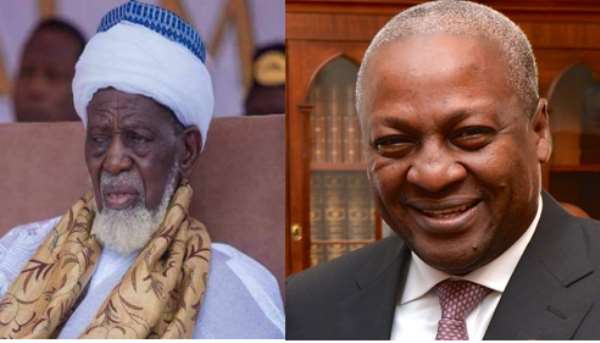 It is exactly one year ago when a respected man, Mr Owusu Bempah (popularly known as Rev. Owusu Bempah) spewed out his usual 31 December prophecies, claiming that the National Chief Imam, Sheikh Dr Osman Nuhu Sharubutu, who is over a 100 years old will die in 2019. He also predicted that some NDC members will kill Ex-President Mahama in 2019.
On President Nana Addo Dankwa Akuffo Addo, Mr Owusu Bempah said that some NPP members had conspired to poison him. He also said that Dr Bawumiah and J. A Kufour will die in 2019. In a couple of years ago, Mr Owusu Bempah had predicted the death of J.A Kufour each time. Knowing very well that the health of the Gentle Giant has deteriorated.
In his craftiness, he said that some of his prophecies were unconfirmed but if we joke they will happen swiftly. If it happens yes he said it. If it doesn't happen he did something about it and we prayed. Tricks. Playing on the intelligence of the people of Ghana. WHO WON'T DIE???
Ghanaians must know that John the Baptist was the last prophet in Christianity. Having even a gift of prophecy does not make anyone in the world today a prophet like Isaiah, Jeremiah, Micah and the likes (Matt 11:13).
The master of all lies is the devil himself who speaks from his own resources (John 8:44). The false prophets speak from their own resources which are not based on the truth in the Bible. They are misleading people into idolatry. "They have horns like 'the Lamb' but they speak like the dragon (Rev 13:11-12)."
The so-called prophets never prophesy the day of their own deaths. They never prophesy the day their wives and children will die. Not even the day their brothers, sisters and parents will die. Every time it is about the great people in society and people with substance. The bible says that by their fruits you will recognize them, Matt 7:15-16.
Fellow Ghanaians, beware of false prophets (2Cor 11:13-15, 2Peter 2:1). There is no prophet in Ghana. In the days of the prophets, the prophets were all from Israel. "…In the last days, false prophets will arise to deceive people, they serve their own stomach…" Since money is attached, Africans say, hey here we are.
You may listen to Rev. Owusu Bempah's 31 Dec. 2018 predictions from the link below.
You may also like to listen to a renowned evangelist, Bro. Dan Owusu Asiamah's Biblical Knowledge about false prophets from the link below and also, more from him by searching Dan Owusu Asiamah on YouTube.
.