Mahama's Electoral Concession Was Fueled By Behind-The-Scene Moves!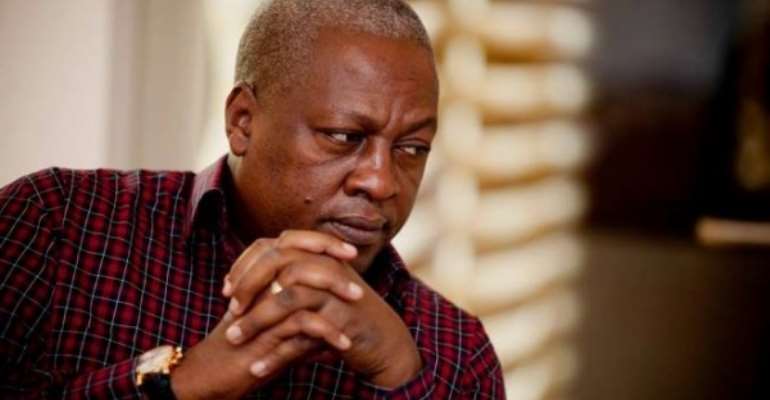 No matter the level of one's disagreement with the guy and his ideology, some of us or Ghanaians of all
political persuasions must genuinely accept one notable "truth" or unique characteristic about ex-President John Dramani Mahama: He is one of the "best actors" when it comes to pretense or what psychologists would describe as "role playing."
Evidently, the current National Democratic Congress (NDC) presidential candidate masterfully understands, though in manipulative fashion, how to make millions off Ghanaians, including some of the overrated "ace journalists" in the country, believe he is the quintessential, unassuming, no-troublemaker, "gentle handshaker" and a true multiparty democrat in Africa today, who as the then incumbent president, willingly ceded power peacefully to his political opponent.
So, with this watertight but misleading electoral narrative constructed around the former president, it shouldn't be a surprise JDM and his lackeys are beaming with anger when the Asantehene Nana Osei Tutu II, in a speech at the United Nations, revealed that the chieftain's crucial behind-the-scenes role pushed Mr. Mahama to graciously concede defeat to then presidential contestant, Nana Akufo-Addo, in 2016.
Of course, ex-President Mahama and his devotees will not only be furious about Asantehene's revelation but also, they'll be defensive because whenever one's "trousers/pants are on fire" the default response/behavior was exactly what Mr. Mahama's former presidential chief of staff Julius Debrah, came out to do: By quickly coming out to accuse the one who has just told the truth of lying. Since unexpectedly losing power about three years ago, former President Mahama has done a "great job" of making a lot of Ghanaians forget that he was and still is the proverbial character walking around promising clothes to all the "naked people" even though he himself is always the "Naked One."
Every best government management benchmark indicates Mr. Mahama really does not have what it takes to be competent manager/leader to keep telling Ghanaians he will turn the nation's economy around for the better, the very entity he and his NDC cabal left for dead. Yet, he barefacedly continues to pull the wool over Ghanaians' eyes, hoping none of us will be smart enough to notice he is the legendary "naked one" who seriously needs clothes for himself first.
Subject to dispassionate scrutiny, the ex-president's attitude or political persona has been built around the notion that he is a selfless servant in the thankless public service, serving "ungrateful" and "forgetful" bunch of Ghanaians who will never be appreciative of one's sacrifices. Surely, the NDC's 2020 flag bearer is upset and the same time, feels let-down by the Asantehene for blowing away the cover of one of the worn-out fairy-tale stories that he genuinely believes in peaceful transfer of democratic power.
The preceding false narrative of ex-President Mahama that does not want to spare Ghanaians' ears by persistently reminding us of the moral claim that the "selflessly magnanimous" JDM is most likely the reason this country is more stable than ever before. But we now know that without the behind-the scenes effort of the Asante king, the NDC through former President Mahama would have created not only constitutional crisis but also the likelihood of throwing this beloved nation into turmoil.
Some of us may have our differences here and there with some of his decisions — which is normal in every modern community — but no reasonable Ghanaian will contest that Asantehene deliberately made up the story just to undermine the NDC's presidential aspirant. At any rate, what incentive or the exact motivation(s) will inform the Asantehene to put his reputation on the global arena to misinform/lie to undercut a former president known to be a "cool friend" of the Asante traditional leader?
Certainly, a closer look at the posture/behavior of JDM-hijacked NDC right after the 2016 general elections showed a shell-shocked, disappointed, disorganized, confused, sad, and desperately vanquished incumbent president. And, as the old saying goes: "desperate times call for desperate measures" so in that hour, the electorally-wounded JDM could do anything to cling onto power like many of the African leaders are notoriously known for.
All along many of us strongly believed, and the Asantehene has innocently come out to confirm, that then President Mahama conceded defeat in 2016 because he was persuaded by some powerful forces behind-the-scenes, including the late former UN Secretary-General Kofi Annan. Whenever Mr. Mahama and his followers at the NDC attempt to lecture or accuse Ms. Jean Mensah the current Electoral Commissioner (EC) and the ruling NPP administration of a possible election rigging in the upcoming 2020 polls, it makes one wonder if the ex-president thinks he can subtly exploit every Ghanaian to his insatiable political ambitions. He attempted to rig the 2016 election, but it couldn't work so the NDC has premonitions that NPP under Nana Addo will try the same tactics.
When it became clear to him and his then ruling NDC party that he had lost miserably to Nana Akufo-Addo in 2016, Mr. Mahama and his "chosen one" Ms. Charlotte Osei the EC at the time tried to come up with possible scenarios as to how to declare the already lost elections for the then reigning president but the outcome had reached the point of no return. Obviously, it was at this point that the Asantehene and other moral authorities in the country started putting pressure on the subdued JDM to accept defeat judiciously. Former President John D. Mahama, this was how everything played out, wasn't it?
By—Bernard Asubonteng
Bernard Asubonteng is a US-based writer and a Ph.D. candidate for public/foreign policy.