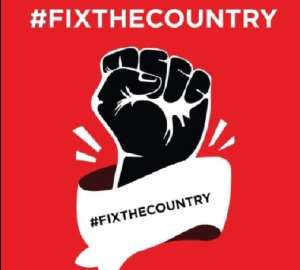 Lately, the pronounced mantra in Ghana's sociopolitical arena has been "Fix The Country." On the surface the tag line seems very straightforward, but "fix the country" rallying cry in Ghanaian body politic today not only has intertwining conceptual underpinnings but also, it has political, economic, social, and cultural markers that are complicated and deeply generational.
First, the discerning question for all of us is: What exactly does it mean to say "fix the country"? The cold reality many reasonable-minded Ghanaians can't escape from is that this nation, like many others, has a lot of timeworn problems competing for far-reaching solutions. Basically, the nature or the level of every country's predicaments and/or priorities differs from one another. This is because the cultures, that nurture or within which each country's history as well as its socio-economic and political trajectories are shaped, tend to be unique. That is to say, all the policies a given government/country pursue within and outside its international borders are endless choices carved out of that nation's historical experiences that include its cultures.
Thus, whether one is dealing with multiparty/representative democracy or dictatorship, almost all institutions of government naturally reflect the histories and the cultures of that individual society. A nation or Ghanaian system of governance—for that matter—is informed by its culture and history. This fact, in turn, has immense influence on the country's political and socio-economic development; and given that human endeavors or nations' developmental efforts are all based on choices that are collectively made by their policymakers, including the ordinary citizens, especially, in their willingness to abide by the laid-down rules of the country.
What the foregoing means is that across-the-board development cannot be successfully incubated outside the petri dish of the cultural habits or the value system of a country's people. This brings us to the near-constant drumbeats of "Fix the country" in the echo chamber of the present-day Ghanaian cyberspace. As suggested earlier, fixing a multiethnic society such as Ghana is truly a collective enterprise that must involve all Ghanaians.
Here is where the public discourse has been getting testy over the past several months, regarding which group among the Ghanaian population must bear the brunt of fixing the beloved Ghana's woes. While a large number of Ghanaians is placing the task of "fix the country" on the cash-strapped shoulders of the government alone, many others strongly counter that fixing any nation is a shared responsibility. In addition to the theory of "split responsibility" of governance, the latter group also insist that no serious nation has ever attained significant development without the right frame of cultural mindset or attitudinal transformation geared toward appreciation of law-abiding citizenship, environmental discipline, corrupt-free bureaucratic system, true patriotism, strong work ethics, among others.
Admittedly, one cannot be surprised to find out that representative democracy is fraught with dilemmas, and among them are opposing assumptions that view freedom (of the press?), law, order, equality, good governance, from different prisms. After all democracy, as we have in Ghana, is slow, messy, and imperfect, but at the same time, it is a bulwark against something worse. If this is not believable, then let one visits Belarus, UAE, China, or North Korea, and try to practice the form of journalism and/or political activism we have in Ghana here and compare it to those countries to experience the consequences of what culture of silence actually means.
Perhaps the present government in Ghana under Nana Addo may be relatively "slow" in terms of the achievements of all its campaign promises, yet any clear-minded evaluator who genuinely appreciate effective government cannot put ex-President Mahama's NDC past administration and the current ruling NPP government on the same pedestal. Mr. John Mahama's government was peerlessly corrupt-prone, clueless, and left behind was
a train-wreck leadership regarding sound micro- and –macroeconomic policies. But if one were to ask the nation's main opposition NDC sympathizers to grade the overall performances of Nana Akufo-Addo administration as we speak, undoubtedly the score will be pegged around below averages.
The reason from the above is simple: Ex-President Mahama's NDC understands politicking and contemporary governance from its usual comfort zone or based on its own simplistic worldview of the science of politics. In other words, NDC is not used to quality leadership that emphasizes hard policy choices, creativity, and many more. Rather, Chairman Ofosu-Ampofo's NDC is used to sabotage, obstructionist politics, propaganda, hyper-partisanship, let-the-galamsey-spin-Ghana-to-nothingness-mentality, and so the only way the NDC can assign meaning to its existence as the major opposition party is to take any position that stands pole apart of Nana Addo-led NPP government. It may be a feel-good politics for the opposition but it doesn't provide any innovative input toward "fix the country" challenge.
Frankly, if former President Mahama-hijacked NDC will spar with the cold truth, the party will admit that one of the major remote causes of why many Ghanaians are screaming "fix the country" is because of NDC's past years of systemic mismanagement that ran this country into a deep hole when in power. Surely, prudent leadership plays critical role in fixing a country, and so President Akufo-Addo is in charge now. We get that part. However, it will be gross dishonesty to dismiss the larger context of "fix the country" conundrum because it creates crisis of understanding in finding sustainable solutions. Think about it: all human beings are vulnerable to cultural attachment. None of us can ever take out our cultural habits from the way we run our lives and societies.
In short, the most crucial context within which to have genuine discussions about fixing any country in the world is the society's cultural attitudes that shape all the citizens' value systems, including the proper role of government as well as what constitutes viable opposition parties. For example, if we have largest opposition party, such as Mahama-controlled NDC, that primarily understands the concept of opposition politics as zero-sum game; win power at all cost but make Ghana ungovernable for the other party in power. Until Ghanaians also address that ingrained political attitude or help push it into the limbo, any call for "fix the country" may look like a mere attention-grabbing exercise that is not serious at pinpointing the main causes of the problems holding back Ghana's progress, unfortunately.
Bernard Asubonteng is a political science lecturer based in U.S. Email: [email protected]