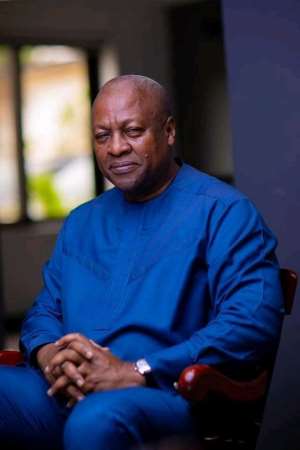 John Mahama
I have seen pictures and videos in which kings and queens have kissed his hand. He is simply admirable, gentle, loving, very appealing and well-composed. He is John Dramani Mahama. The treasure, a section of Ghanaians, unfortunately, rejected in the 2016 elections. Ghana has missed him.
Ghanaians are full of regret of the decision they mistakenly made on December 2016. Today, soldiers are talking against corruption in this country by Akufo Addo and his cronies. Policemen are resigning to contest as parliamentary candidates on the ticket of the NDC. All because they are sick and tired of Akufo Addo's dictatorship and theft. This has never happened in this country since the 4th republic began.
Mahama was described by his detractors as incompetent and corrupt though available records show that he even prosecuted his own appointees. Some of whom are currently serving terms in prison. Human beings are by our nature insatiable beings indeed. To put it buntly, man is by nature an ungrateful being. How could we have fallen so low to reject such a good man? The saying "the devil you know is better than the angel you don't know" is so true under the current circumstances.
Well, the alternative is here now for all to see. Right now those who pushed Akufo Addo down our throats are the same people who are telling us to kick him out of power in 2020. Mahama serves a living God. Some of his key advocates have also vanished. Only God knows where they are hiding themselves due to shame. The few who are still active have become something else. Manasseh Azure is now a freelance journalist after incurring Akufo Addo's wrath. A Plus is now running an NGO after suffering similar fate as Manasseh. The names are countless. As for Bawumiah his fall will be tsunami. Don't call me a prophet when it comes to pass.
The biggest mistake ever made by the people of Ghana was to elect this wicked soul call Akufo Addo. Ghana is more than hell since this cruel man became our president. His detractors call him THE USELESS ONE. A name which sounds quite befitting. He just can't get anything right not even his free shs policy which has now become an albatross hanging around our necks. A blessing and a curse at the same time.
Mahama's only crime was that he decided to embark on an infrastructural development aimed at helping each and every Ghanaian but this bad old liar deceived Ghanaians with juicy promises and they fell for it. The end result is that he is gifting our cherished resources to his family and friends through manipulation of our laws.
Nothing is working well in Ghana now. Unemployment has tripled; utility tariffs have doubled; many banks have collapsed and many more are collapsing. There is unprecedented scandals. The latest being PDS scandal where president Akufo Addo's personal barber was awarded majority shares. Daylight robbery!
Ladies and gentlemen, there is a reason for everything. Our elders have a say that "no matter how deep a treasure is buried in the ground, it will be discovered". Mahama is that treasure and God willing we will bring him to power in 2020. Let's open our eyes. Let's work hard. Let's set aside our personal grievances. Let's work collectively as a unit just like the proverbial broom which cannot be broken when tied together.
My deepest worry is that in the NDC today there is too much hate for one another. There is this obsession about "ownership of Mahama" which is causing some admirers to coil back.
My advice to Mahama is that he must open his doors and allow fresh legs to come in to support him. A defeated General doesn't go into a new battle with the same troops. He adds new troops to the existing ones. I really don't know what is happening but after the presidential primaries, I don't see much happening in terms of organisation. Organisation decides everything. The personal hatred for each other and the desire to see our friends sink is not allowing us to put up our best or even work together.
Finally, Mahama must own this campaign. He must be mindful of the people he assigns official tasks to perform. the message is as important as the messenger. We want victory and we want it now.