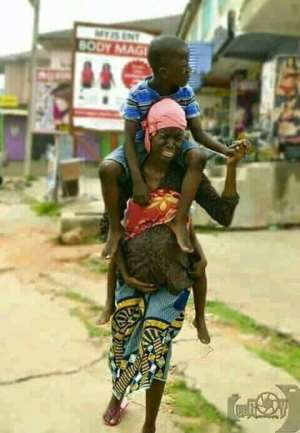 Dear Kojo,
I write you this letter with deep concern about your well-being. Knowing you so well, I know what you are going through is not easy at all my friend Kojo. I understand your circumstances better than anyone. Poverty does not befit anyone. I know how your poor parents left you nothing before their unfortunate demise in that gory accident that fateful day. As the eldest of four, the burden of bringing up your siblings fell on your shoulders despite being a child yourself.
At the tender age of twelve, you started your first job as a trotro mate to fend for yourself and your three sisters. You had to drop out of school because you had no choice. I remember how your boss, Kofi, sacked you from your job as a trotro mate when you failed to turn up for work for only one day. Yes, that was the day Akosua your sister had cholera and you rushed her to the hospital. Thank God she survived.
I remember your sachet water job too. Hajia Abiba was very nice to you. It was rather unfortunate that you were kicked out of that house by the landlord for your inability to renew your rent in the apartment your parents left for you. Thank God, Ajara rented her kiosk to you at James Town and you had a fresh beginning when you relocated.
It was really sad when a brilliant girl like Adoma who was first in her class became a prostitute and a drug addict. I believe someday your sister will be fine. Don't worry Kojo.
Recently, I heard from Joe, our childhood friend, that you were employed by a construction company. I was really glad about that. It's been more than 20 years since I heard from you. From Joe I learned your youngest sister, Serwaah, was raped and committed suicide because nobody believed a rich and famous man like Don Dada would fall so cheaply for a poor girl like her. Accept my condolence.
Sorry to hear about your broken leg. I understand how difficult it's been for you. Alhaji Rashid had no option but to relieve you of your duty. He can't continue to pay you for no work. Also, your healing will take very long time. Sorry my friend Kojo. Perhaps you should consider doing a lighter work such as driving a taxi or a trotro when you recover. Halidu is now an Uber driver. He says, being an Uber driver is better than nothing.
Joe told me despite 5 years of marriage, your wife has not conceived a baby though you did everything possible. He said you have now become an alcoholic and a chain smoker. Oh Kojo! I have also learned that the police arrested you along with several others at some ghetto and that you have even been sentenced to ten years in prison for possessing Indian hemp.
Kojo, don't worry at all. I will visit Rev. Obiba to see if he could get you a good lawyer to help you out of prison. In the meantime, stay alive for me. No condition is permanent. Like Joseph, someday your suffering will end. Joseph had a dream that he was going to be a great man. Little did he know that he was going to pass through trial upon trial. In the end, he was a happy man. Kojo, once there is life, there is hope. How a story begins is not as important as how it ends. The saying "the end justifies the means" is so true. I will pay you a visit next week. Later my friend.
Yours truly,
Paramza Kofi Hamza