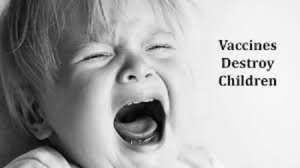 The Italian newspaper, 'Il Tempo,' has joined other newspapers worldwide to reveal shocking analysis of vaccines. The question is: What's exactly in a vaccine that always receives the strongest opposition from the pharmaceutical industry?
Moreover, an enormous amount of lobbyist started to attack anti-vax movements and scientists or those who oppose contaminated vaccines. But every once in a while there is some light at the horizon when politicians are involved or well-qualified institutes are ringing the bell.
Anyway, the light shines more brightly when a newspaper discussed and publish the results of an investigation after very dangerous and contaminated vaccines. "IL TEMPO."
Normally newspapers and journalists proclaim everything that the pharmaceutical industry want them to say because of ordinary profits.
Well, there's also a killer scientist, Dr. Hillary Koprowski engaged in the mass vaccination of Congolese with contaminated vaccines against polio resulting in many deadly diseases including Ebola as discussed in the USA Senate and World Health Organization.
These vaccines were full of wild viruses amongst them a retrovirus which have induced AIDS.
WORLD HEALTH ORGANIZATION INVOLVEMENT IN MEDICAL CRIME IN AFRICA
Finally, a laboratory has investigated exactly what is being injected into our children and it's not the first investigation published. According to this study, that appears to differ from what is written on the package leaflet.
If the research results of Corvelva are correct, this information is a bomb under the already waning confidence in the mass vaccination programs. It would mean that mistrust is necessary, as is our call for independent scientific research.
Italian newspaper Il Tempo A heading of the Italian newspaper Il Tempo of December 23, 2018, stated: "ANALISI CHOC SU DUE LOTTI VACCINI" - Analisi scioccante dei vaccini.
This heading translated means; "Shocking analysis of vaccines," a conclusion made after months of scientific investigation financed by the Italian Society of Biologists.
The idea originally came from the previous Italian Parliamentary Committee on depleted uranium (see link below). It is a fact that many deaths and illnesses within the Italian Army are related to the conditions under which the army operated.
But there was another common denominator: to participate in the peace mission in Afghanistan or Lebanon or Iraq or wherever the troops were given a high number of contaminated vaccines resulting in illnesses and death.
Vincenzo D'Anna, the current president of the Italian Professional Association of Biologists, was at that time a member of the Italian Parliament and wondered whether these vaccinations could be the cause of the health problems in soldiers. (more info see our blog post:
ITALIAN PARLIAMENTARY COMMISSION ON SEVERE CAUSE VACCINE DISEASES
As insiders, we know all the difficulties to have vaccines investigated but this time a member of the Italian Parliament is ringing the bell and he isn't even a whistleblower like us.
But even then he has had quite some feet in the earth to find an independent person who was willing to control various batches of commonly used vaccines. But the inquiry report of the Italian Chamber of Deputies Resolution puts it very clear:
"Italian parliamentary commission of inquiry into cases of death and severe illnesses affecting Italian personnel assigned to military missions abroad, firing ranges and the sites where munitions are stocked, on the exposure to particular chemical, toxic and radiological factors."
"With a possible pathogenic effect and administration of vaccines, with special attention to the effect of depleted uranium shells and of the dispersion in the environment of nanoparticles of heavy minerals produced by the explosion of warfare material and any related interaction."
After the shocking analysis of vaccines the AIFA (the Italian Medicines Evaluation Board) and the EMA (European Medicines Agency), should be informed immediately with no time to waste", says D'Anna, the current chairman of the Italian professional association of biologists.
Vincenzo D'Anna chairman of the Italian professional association of biologists
According to Vicenzo D'Anna these exceptional results, published in international scientific journals, will be reported to the AIFA (Italian Medicines Agency), the EMA European Medicines Agency, the NAS unit of the Carabinieri and a public prosecutor.
IL TEMPO interview with Vincenzo D'Anna Il Tempo- You are the chairman of the national professional association for biologists. I have to ask you the usual question: do you belong to the radical anti-vaxxers?
D'Anna- I? Definitely not. Like other biologists, I believe vaccines are useful. I am just a pro-vaxxer. And demonstrating the usefulness of vaccines was not the goal of this analysis. Central to this research was the question of the quality of this product on the market and not the usefulness of this product.
Il Tempo- And what were the results of these tests?
D'Anna- Dozens of polluting substances have been found in various batches. And furthermore, substances have been found that should not be in it.
Il Tempo- Do not be in it? What do you mean exactly?
D'Anna- Agrochemicals, herbicides, glyphosate, antibiotics, medicines for malaria.
Il Tempo- Wait a minute. I am not a scientist. I understand that herbicides do not belong in a vaccine. But why should antibiotics not be included?
D'Anna- An antibiotic does not belong in a vaccine. This also applies to anti-malarial medications and herbicides. Several pollutants were found that should not have been in it.
Il Tempo- In minimum quantities I hope …? D'Anna- Of course, we are talking about nanograms and nanoparticles. But remember that these particles are injected, not swallowed. The body absorbs them and cannot excrete them in some cases, such as in the case of aluminum.
But it is not for us to determine the harmfulness or toxicity of these substances. There was also something else from the tests. For example, the rubella virus was not present; that is fraud because the thousands of children who have received this vaccine are not protected against red dogs. In addition, substances have been found that do not belong in a vaccine, such as human fetal DNA.
Il Tempo - Fetal DNA? D'Anna- Yes, to produce the required dose, the virus must be cultured on human fetal DNA from an aborted embryo, or on chicken eggs. This also explains the presence of herbicides, glyphosate, agrochemicals, and antiparasitic agents.
Il Tempo- But those traces, even if they are very small quantities, should not be in a vaccine?
D'Anna- Of course not. Il Tempo- And have public laboratory tests already been carried out on these parties?
D'Anna- Have you already seen them? Do you know the results? Legal status exists and the manufacturer is not obliged to test the end product. The government should carry out these tests. But I have not seen a single test.
Also because a possible result is kept secret. Just as Coca-Cola does not reveal its recipe, the producer of a vaccine also wants the competition to stop copying the production process of the vaccine.
Il Tempo- But what would have happened if the state had found these results? D'Anna-Dan had something to explain to the vaccine producer. One question should be: How can someone make antibodies against the rubella virus if there are no antigens in the vaccine?
As far as the vaccine against tetanus, diphtheria, etc. is concerned, the different toxoids (protein antigens) are not found separately, but in the form of a large macromolecule at the bottom of the test tube. That molecule did not react to trypsin.
Il Tempo- You are now difficult to follow. The point is this: Do you mean to say that this should not happen in vaccines?
D'Anna- Exactly. There should be four different proteins present, which split off under the influence of trypsin. That does not happen, so that means that such a macromolecule contains something else that keeps the proteins together.
We will report these results to AIFA and EMA, also to see if they have more knowledge about this. Il Tempo- The rubella virus should have been in the first batches, but that was not there. That the vaccine is not effective, is clear to me. Less clear are the effects of the macromolecule in the other vaccines?
D'Anna - First: even if it were legal and innocent, the authorities and consumers would have to be informed. Secondly, a significant number of peptides (short chains of amino acids) of bacterial origin were found in these vaccines, probably from bacteria that happened to be there and contaminated the culture.
In addition, 65 chemical pollutants have been found, 35% of which we know the substance involved (we have now performed the repeat tests on one batch, the only batch that was available in Italy in over a year). 7 substances are chemical toxins, but even that we are not sure yet until the structure is confirmed with a standard control test.
Il Tempo - And after that? D'Anna - After that, AIFA and EMA must replicate our analyzes and publish the results and their evaluation. We do our part. For example, on January 25, we have planned an important event in Rome entitled "Safe Vaccination" in which international and Italian scientists participate, such as Giulio Tarro, who has recently been named the best virologist in the US. These analyzes will also feed the scientific debate. "