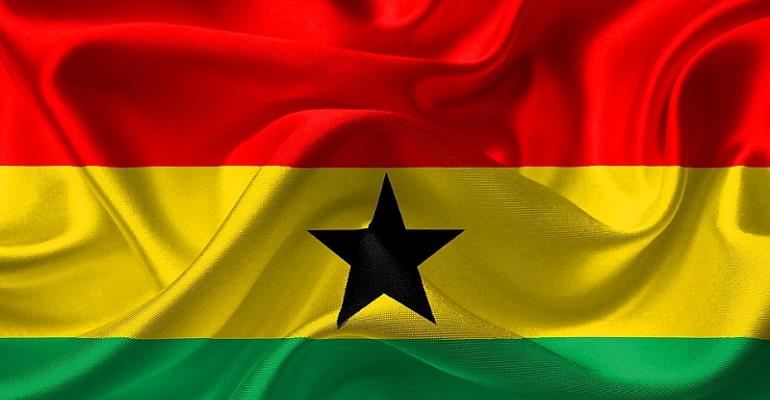 Do you know the building we are standing in front of?" asked Kwame with a bright smile on his face, behind him the Ministry of Finance, not far EPA and Ministry of Health. In front of him, they had a very good view over the Professor John Atta Miles Avenue passing along the Gulf of Guinea towards Black Star Square and the Accra Stadium.
"GIPC, Ghana Investment Promotion Center," Kojo stepped closer reading the plaque next to the glass door at the simply building has seen its best days long ago. He lifted up his head, looked down again to remember: "Oh, my brother, this once was the office of a great and wonderful Lady…so beautiful inside and outside, a woman that is always carrying herself like a Queen when walking and talking, the sister to our famous Komla Dumor from BBC Focus on Africa daily report and mother to a beautiful daughter, sweet Princess, Mrs. Mawuena Trebarh…yes, yes, of course, I know her so well."
They walked on passing Register General Department´s Office heading for Tema Station. As usual during the time of light TroTro drivers announced loudly their destination in and outside of Accra. Vendors, mainly ladies, carrying foodstuff on their heads, made their rounds between the broken, used cars imported from Europe or Asia, constantly polluting the hot air of the city making breathing a challenge. From the streets alongside Tema Station the smell from the open gutters of urine wasted food and hot cooking oil melted with the heat of the sun to an unbearable smell in the air only trained and ignorant noses would not take notice off.
Under a small, tiled roof next to a vendor selling soft drinks and cakes, they waited patiently for their car to take them back to Kasoa.
Kwame looked around while sadness climbed into his heart making his voice sound slower and deeper than usual: "Isn´t it a disgrace for our Nation to see each night in the darkness when the cars are parked at their owners home, young ladies with their babies come here to sleep on the naked concrete covered with simply cloths to protect themselves from the dangerous mosquitos open to any misuse by bad people while during the day they carry heavy bales of used clothing's 55 kg each on their hear, their children tied to their backs…and nobody cares?"
Kojo looked around to observe the hustle and buzzle of the Bus Station proclaiming: "It is a disgrace to our mandate as a nation…a heartbreaking disgrace."
Kwame jumped on the words of his closest friend with tears in his eyes and a firm fist in his pocket: "Ghana is assigned to be the raw model for a glorious world ruling continent Africa currently walking in wrong shoes. Our independence just had come too early. Democracy is in Africa the constitutional right for the political and economic elite to rob Nations of their natural assets and people´s much deserved good future, a concept working well for the White Man, yet not for us. J.J.Rawlings did not have the idea for the 1992 constitution rather bowered down to outside political pressure. Our state´s form as a Republic is not helping us at all. The only thing based on our history, mentality and future to move Ghana in the right direction long last is a new and modern version of a Kingdom. The new Kingdom of Ghana is set by God for us to achieve the position in this world we are supposed to inherit, to lead Africa as the new dominion force in this world by which we would be the Ruler of the world."
"You are talking…you are really talking wisely and well…my brother…but," wanted Kojo to make his friend consider. "…but when you look around Ghana, Africa and beyond proclaiming the unseen able, for many the impossible…see over there the madman in his dirty, broken and stinking clothes…people will not understand you at all but put you into the corner of such a madman. What will you, me and us all here in this country gain from speaking the truth that is out of the reach of so many people around the world? In Ghana, nobody wants to hear the truth!"
"Does this mean I should not speak the truth…or simply please people of what sounds sweet and comforting in their ears? If life makes any sense…then only the truth can set us free regardless of how impossible she might look. Hundreds of years ago proclaiming one day we would visit the man in the moon would have resulted in getting burnt as a witch…but see five hundred years down the line, we have achieved the so-called impossible. So, my good brother, what are you talking about? When you can dream it, you can achieve anything in this world with patience, perseverance, sacrifice and commitment," stood Kwame before his friend stretching his body feeling the anger about the current situation in his country all over his body making him feel sick.
"Will this new elected King of ours understand the simple truth that for a healthy progressive economy the state only has to be indebted small, the private households have to save money for their financial progress but it is the private sector, the companies that need to be substantially indebted that reflects in investments? Ghana´s economy is too much based on Government-owned or influenced companies…not good at all…our downfall," got Kojo up to follow his friend over to the bus ready for departure to Kasoa.
"The future King will be a white man…of course my brother…unlike our wicked African mind he will understand and perform simply economic and society truth for the benefit of the entire Nation…over time," replied Kwame, bought plantain chips, some biscuits and groundnuts.
"The real reason for Nana Akuffo-Addo to build the new National Cathedral is not that we do not have enough churches to serve our spiritual needs or need an additional tourist attraction, only the fact is that from all our Presidents he is the next to pass on and wants a funeral in grand style…simple as that," laughed Kojo while boarding the old small Bus with broken brakes and loose exhaust.
Kwame found his seat behind the driver laughing out loud: "That is Ghana for you!"