How Poverty Has Silenced African Leaders Over The Medical Crimes In Africa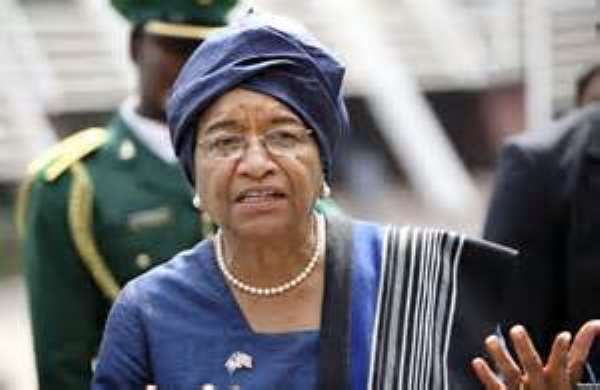 Ex-Liberian president, Ellen Johnson Sirleaf, knew that Ebola is a medical crime but wouldn't comment because of poverty.
The World Health Organization (WHO) declared on Saturday, July 31, 2015, that Liberia's devastating 14-month Ebola outbreak, which killed more than 4,700 people, is over in the West African country.
The WHO declares: "It has been 42 days since the last confirmed Ebola victim in Liberia was buried. That is twice the 21-day incubation period for the disease to emerge in an infected individual. A national ceremony is planned for Monday."
But why do outbreaks persist in neighboring Guinea and Sierra Leone? And why did WHO cautioned that this reality creates: "A high risk that infected people may cross into Liberia over the region's exceptionally porous borders?"
This is very strange because we know by now that the Ebola virus which was discovered in Liberia is totally different from the one which caused the previous outbreaks in Sierra Leone and Guinea! And when they cross the borders they only could insert the contaminated virus with that specific virus and not the newly appeared virus which contaminated the 17-year-old boy!
So, if anyone thinks the Ebola outbreak in Mano River Basin is something that is a trifle, please let me confidently state to you that the ongoing disaster is far from being something to put on back-burner. This is the time for all residents in the badly affected Ebola countries to unite to fight those who developed the man-made viruses!
World Health Organisation spokesperson, Tarik Jasarevic has now officially informed journalists on what many had suspected was the fearful realization that the new outbreak of Ebola in Liberia, with an index case of a 17 years old schoolboy, was not really 'new' after all. The outbreak never really ended in Liberia, something the World Health Organization knew that all along.
"We're proud of what we collectively managed to do but we need to remain vigilant," said Peter Jan Graaff, the United Nations Secretary-General, acting as a special representative and head of the U.N. Mission for Ebola Emergency Response (UNMEER). The virus is not yet out of the region and as long as the virus is in the region all of us are still potentially at risk."
On Saturday, Liberian President Ellen Johnson Sirleaf, toured health centers in Monrovia, embracing and taking group photos with health workers. She was accompanied by U.S. Ambassador Deborah Malac, the Associated Press reported.
But President Ellen Johnson Sirleaf, how long do you want to wait? Is it not about time to open your eyes and stop embracing WHO and other political, military and medical celebrities, who knew and know that the Ebola and Aids viruses were developed in the bio-medical warfare scene before, during and after the Second World War?
Is quietness not a form of stupidity, when many African leaders, including you, do not recognize the real scientific described origin of Aids and Ebola? Are your citizens not more important than power and money? Are you not aware of the fear and uncertainty you've placed your citizens into? What about the future, families, communities, your country, and its economy?
How long will you continue to believe in liars and people like Peter Jan Graaff from the WHO, who declared that Liberians are Ebola-free? And when he stated that the transition to Ebola-free status was a "monumental achievement," then-President Ellen Johnson Sirleaf, you must read my book "Aids and Ebola the greatest crime in medical history against mankind," and articles on the blog of the Ghanaian investigative journalist, author, and writer Joel Savage.
Yes! President Ellen Johnson Sirleaf, you must do that, because the complete scientifically development of Aids and Ebola viruses are well explained in the book, to bring out the truth and stop the Africans claiming Aids and Ebola are curses from God. Africans don't deserve any punishment or curse from God, than those who developed the viruses and planted in Africa.
Tolbert Nyenswah
Tolbert Nyenswah, who led Liberia's much-criticized response to the disease, said late Thursday that finally ridding the country of Ebola was vindication for leadership that had taken such a beating during the darkest hours of the epidemic when critics complained about slow steps taken to halt the spread of the deadly virus. "Today, the same people (critics) are using us as a success story," Nyenswah said.
In Washington, the White House on Saturday congratulated Liberia on the achievement, but cautioned that: "(we) must not let down our guard until the entire region reaches and stays at zero Ebola cases." That statement alone confirms Liberia is still not free from Ebola.
The U.S. military, which was quick to respond to the crisis, built 11 clinics across Liberia, many by contract and trained 1,500 health workers. Yet by the time the work was completed in late December, the disease was on the decline. Last month, The New York Times reported that only 28 Ebola patients were treated at clinics built by the U.S. military, but President Ellen Johnson Sirleaf, they only treated 28 patients for the record, and to ask why does Liberia need a thousand soldiers to take care of only 28 patients in the neighbourhood of diamond and gold mines?
Peter Jan Graaff from the WHO
The WHO spokesman Peter Jan Graaff has now confirmed that: "Genetic studies of the virus in the 'latest' outbreak in Liberia is identical to the one that used to kill in Liberia a few months back and which is the same virus that continues to kill in both Sierra Leone and Guinea." But that is a lie President Ellen Johnson Sirleaf! Because none, (I repeat, NONE) of the Liberians now with new Ebola infection in Liberia ever traveled to Sierra Leone or Guinea. It means the virus has been right inside Liberia quietly all this time. Whether new or old virus, they were all genetically engineered in laboratories.
Conclusions
The WHO Spokesman is now saying the infection of the 17 years old boy was likely acquired from a 'non-identified transmission within the community' or from a survivor still carrying the infection in other body fluids long after the blood tested negative for the virus. But there is also another possibility, so fearful to contemplate that the virus has now modified itself so much, genetically engineered by men of course, so that it can delay the onset of symptoms in those it infected.
What do I mean by 'delay the onset of symptoms?' Let me explain. Viruses can exist for stated periods in humans before they start manifesting sickness in the infected human. For example, the HIV virus can exist for years in a person before it causes the manifestation of clinical signs of HIV-AIDS.
Now, prior to this Outbreak, Ebola was known to manifest symptoms within 2 to 21 days of infection. This particular MRU outbreak had an average of 9 days between infection and symptoms. So, if it is now suspected to be scenario for 'new index case' of a teenage boy in Liberia, this MRU Ebola virus is now with the ability to exist for more than 21 days in a human before it manifests symptoms of Ebola sickness, then I can easily say we have a major situation on our hands in the MRU basin, to say the words from Tolbert Nyenswah.
Add to this, if the huge number of survivors living in MRU basin are possible carriers of the dreadful Ebola virus in body fluids like male semen or in the placenta of the fetus in wombs, we might have a serious nightmare unfolding in the Mano River Union basin also in the future.