Kokrokoo Foundation Supports Tema Paediatric Unit With Incubators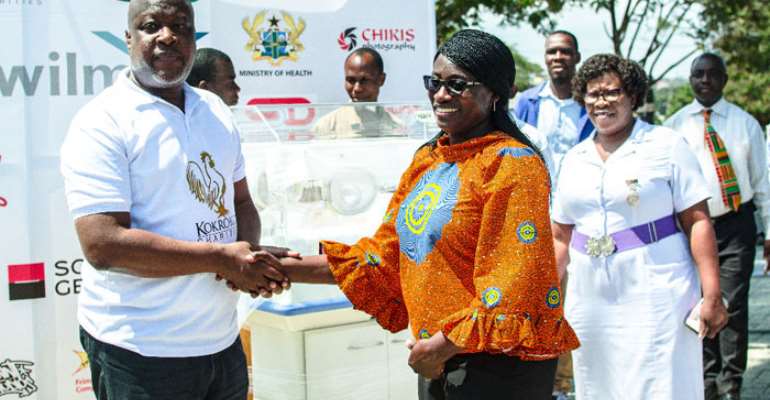 Kokrokoo Charities Foundation, a non-governmental organisation with focus on improving health outcomes for babies and their mothers, has presented two incubators to the Tema General Hospital.
The incubators, costing $10,000 each, were presented to the management of the paediatric department of the hospital in a short ceremony on Monday.
The presentation brings to 17 the number of incubators distributed to various hospitals across the country by Kokrokoo Charities in its '100 Incubator Project' which seeks to deliver 100 incubators to hospitals by late 2019.
Kwame Sefa Kayi, founder and chairperson of the foundation, making the presentation after touring the department, explained that the organisation he represents is committed to ensure it delivers on its project targets.
He said the issue of maternal and neonatal health often does not receive the needed attention because the people it affects are the most vulnerable in society.
Mr. Sefa Kayi revealed that the interventions would help address the challenges being faced by a section of the population in receiving healthcare.
He added that the foundation would also renovate the windows of the department and provide other logistics they need.
Dr. Audrey Frimpong-Barfi, head of the paediatric department of the hospital, who received the incubators, said the facility had only five functioning incubators, making it extremely difficult to properly care for critically ill pre-term babies.
He pointed out that the situation has compelled health workers to pair as many as three and under certain circumstances four babies in one incubator when the need arises.
Although pre-term babies are supposed to be kept in an incubator, Dr. Frimpong-Barfi explained that stable pre-term babies are put under the kangaroo mother care treatment, a medical intervention where the mother and sometimes relatives are used to provide warmth for the pre-term baby through body-to-body contact.
Dr. Frimpong-Barfi, therefore, underscored that the gesture from Kokrokoo Charities Foundation in adding two more incubators would help the facility provide better care for the pre-term babies.
By Jamila Akweley Okertchiri