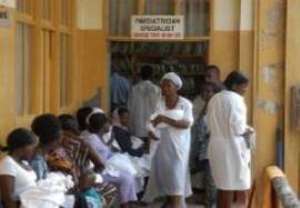 maternal deaths
Asikuma (C/R) Feb. 13, GNA - Two Institutional maternal deaths were recorded in Our Lady of Grace Hospital, Breman Asikuma in 2013 against 3 in 2012 and 1 in 2011.
Dr. Francis Bentil, Medical Director of the hospital disclosed this at the 2013 Health Performance Review Meeting, organized by Asikuma-Odoben-Brakwa District Health Directorate of the Ghana Health Service.
According to him, management of the hospital have put in place measures, including early referrals by other health facilities to their outfit and total support and cooperation from family members of pregnant women sent there.
He asked midwives in all the sub-health facilities in the district to cooperate with all trained traditional birth attendants and encourage them to refer their clients to the hospital for delivery, if the need arises.
Dr. Bentil indicated that, still births recorded in the facility increased from 88 in 2012 to 102 in 2013, adding that, the increase was due to late referrals to the hospital.
The Medical Director stated that during the year under review, deliveries in the hospital reduced from 2,283 in 2012 to 2,100 in 2013, adding that, 492, out of the deliveries recorded in 2013 were through caesarian operation, as against 458 in 2012.
He said this was not the best and entreated midwives in all the sub-health facilities in the district to counsel pregnant women on the need to attend antenatal clinics prior their delivery and also to take the full course of medication given them as directed.
Dr. Bentil said 1,410 pregnant women registered at the antenatal clinic in 2013 as against 1,648 in 2012, adding that, 251 out of the figure in 2013 were teenagers against 290 in 2012.
According to him malaria still tops all cases reported at the Out Patient Department (OPD), with 20,833 reports in 2013 as against 11,544 in 2012, followed by cataract with 7,076, cases, anemia 5,845 and urinary tract infections recording 2,970 cases.
The medical Director said some of the achievements recorded at the facility during the year under review included the establishment of a psychiatric and electrocardiogram units and the health screening of all the hospital staff.
GNA