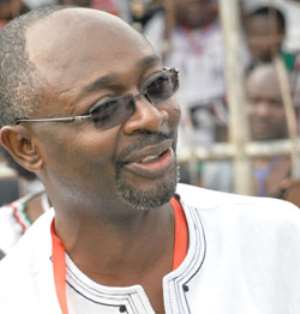 The deadly Bird Flu is on rampage again. Hong Kong, one of the countries that suffered severe Bird Flu attack in 2007, is said to be under attack again. Millions of birds have so far been slaughtered in Hong Kong in order to curb the spread of the deadly flu. Other countries are also reported to be under attack.
Fortunately for us, our beloved country has been spared. It has only been attacked by the 'Woyome Flu', an infection found only in Asomdwekrom. The Woyome Flu is very infectious, but not as deadly as the Bird Flu. It only becomes very deadly when the infection is not treated well.
I first heard of the infection when a septuagenarian friend was hospitalized at the Achimota Hospital. I quickly rushed to the facility and was surprised to see him hale and hearty. 'Is this not the man who was said to have been rushed to the hospital in a very critical condition?' I soliloquized.
In the course of our conversation, he confirmed that he was indeed rushed to the hospital in a critical condition as a result of being infected with the Woyome bug, which made his blood pressure (BP) rise above acceptable levels; but the doctors were able to bring everything under control. He then wondered how our sanctimonious President could claim to have no knowledge of the flu.
Indeed, with the exception of the greedy bastards, most of my compatriots have been infected with the bug. I'm myself seriously infected, but I refuse to let it raise my BP. I refuse because I know too well that a bunch of comedians parading as government officials is a recipe for an epidemic.
The whole affair is very murky so I'm as confused as you are. Believe me, even the President is confused. He never expected the obese cat to jump out of the tightly tied bag. But somehow, the stubborn cat managed to do so.
Agya Ofuntuo quickly tried to save face by telling the world he had no knowledge of the largesse to Comrade Woyome. But we know better, don't we? Considering the fact that the payment was made over 18 moons ago, the least one can say is that his claim is very bizarre.
It is very difficult for one to believe Agya Ofuntuo in this matter. Granted he is saying the truth, does that not give us another cause to worry? A whopping GH¢58m from the national kitty and the President is clueless? How many more dole-outs is he not aware of? Na waa for this country oo!
In the meanwhile, our sanctimonious President has directed the Economic and Organized Crime Unit (EOCO) to investigate the cause of the Woyome Flu.
You heard right, Abusuapanin! It is the same EOCO which recently stormed the offices of the country's football association in a Rambo style and seized computers and documents, only to be compelled to run from the courts with its tail between its legs.
You reckon such an organization, controlled by a bunch of jaundiced officials, could investigate such a matter and come out with an impartial report? I don't know about you; as for me, I smell a rotten umbrella!
Maybe it is because I've been watching too many movies lately. Frankly, I use most of my leisure period to watch the award-winning 24, with Keifer Sutherland aka Jack Bauer as the lead actor. There are too many cover-ups in the eight-season thriller to make the sanest of minds become paranoid.
As the Attorney-General (A-G) is in court challenging the dole-out to Monsieur Woyome, his deputy is shouting from the rooftop that the A-G's Department has no credible defence to put up in court. As EOCO claims to be investigating the fiasco, Deputy Chief of Staff Alex Segbefia is moving from one radio station to another justifying the 'woyomization' of the state. The President alludes, albeit subtly, that the affair stinks; yet his propagandists say it has a very sweet aroma.
Who do we believe now? One cannot help but conclude that there is total confusion among government officials.
It is very intriguing that the former A-G went to court to ask for stay of execution on September 6, 2010, after it had already woyomised the state on June 4, 2010. Could such a deliberate act be described as a mistake? Again, I smell a very rotten umbrella!
I do not support 'abongo' regimes. As a matter of fact, I abhor them. But I strongly believe doling out state cowries in the name of judgement debt lends some justification to 'abongo' takeovers.
I'm pretty sure Aunty Betty has realized by now that accumulating degrees and having command over the Queen's language are not synonymous with competence. Shed no tears for her because she walked into the pit with her eyes wide open.
As to whether she would do the honourable thing is another matter altogether. I would be very shocked if she does because greedy bastards are not known to be honourable.
I heard the President on radio last Friday and it is very obvious his main reason for directing EOCO to investigate the matter is to cover-up the mess. And cover-up, they will. That much I can assure you. But I doubt if they would be able convince those who have already seen their soiled anus.
Abusuapanin, do not be deceived by the so-called freezing of Monsieur Woyome's account. It is all part of a grand scheme to throw dust into our eyes. You wouldn't doubt me if you cast your mind back and examine what had become of all the investigations the President had ordered in the past. The word that amply describes all of them is 'cover-up'.
My compatriots and I are yet to hear from Dr. Boom on the woyomization issue. Wherever he may be, I'm more than convinced that he would feel vindicated. And you know his favourite song, don't you? Sing along if you have a manly voice: 'Gadindim-Gadem, Gadindim-Gadem.'
Despite the woyomization, do try to enjoy the Yuletide. Happy New Year!