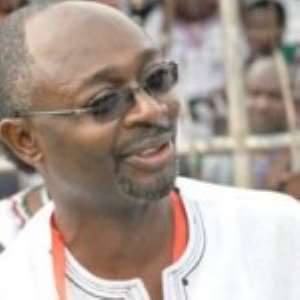 Alfred Woyome
UNIBANK GHANA Limited has frozen bank account, financial assets and other assets of Mr. Alfred Agbesi Woyome in response of Central  bank (Bank of Ghana) directive. 
Bank accounts of Assets of Stewise Anator Company limited, believed to be associated with Mr. Woyome, have also been frozen.
The directive is in pursuant of Section 33(1) of the Economic and Organized Crime Act 804 of 2010.
Mr. Felix Nyarko-Pong, CEO of the bank confirmed the frozen accounts of Mr. Woyome to the Economic and Organised Crime Office (EOCO) in a letter of January 16, 2012.
Meanwhile, Unibank has, upon request, furnished EOCO with the summary of transactions of Stewise Anator Company limited.
The Chronicle has gathered that Stewise Anator Company limited had as at April 30, 2011,
repaid a credit facility of GH¢4,850,000  including  the loan of GH¢3,707,550.55, working capital of GH¢300,000 and accruing interest of GH¢378,108.25 and GH¢31,661.92 respectively in full.
Indications, therefore, are that there had not been any interference or influence by any government official to advance the credit facility to Stewise Anator Company Limited.
According to the  summary, Stewise Anator approached Unibank for a cedi equivalent of  3,298,500 Euros in April 2009 to finance the purchase of 15 IVECO trucks and $48,000 to finance 2 Pick-up vehicles and a working capital of GH¢500,000 (spare parts) by means of a  bank guarantee in favour of  Intercontinental  Bank Ghana Limited (IBG).
The company had contacted IBG on April 17, 2008, for a finance lease for the 15 IVECO trucks and trailers and two pick-up vehicles. On May19, 2008, IBG approved the finance lease for 30 IVECO trucks, 30 trailers, four pick-ups and one excavator which facility was supposed to be repaid over a 60 month period.
In May 2009, Unibank also approved a credit facility of GH¢4,005,550.20 for Stewise Anator for nine trucks and two pick-up vehicles through IBG.
According to the summary of transactions, Unibank approved of the credit facility after Stewise Anator had furnished it with the Registration of the Company Accounts submitted and prepared by Samuel Aryee Services (Chartered Accountants), Business Plan and profile, and a haulage agreement with A.J. Fanji Construction Limited.
Other requirements demanded for the approval of the credit facility to Stewise Anator, according to the summary of transactions available to The Chronicle , were a sub-contract to haul limestone from Yilo Krobo in the Eastern region to GHACEM plants at Tema, Takoradi and Lome, and an agreement between A.J. Fanji Construction and GHACEM signed on July 8, 2009, which expires on May 31, 2012.
The Chronicle gathered that as a result, IBG transferred seven trucks and one pick-up to Unibank, leaving two trucks with trailers and a draft of GH¢360,494.20 on August 25, 2009.
The bank again accepted seven trucks and seven  trailers  and  one  pick-up  vehicle   for GHc 3,705,550.20 and further granted GHc300,000.00 for  working  capital  and GHc868,088.81 for stocking  of spare parts.
Unibank took delivery of the seven trucks and seven trailers and one pick-up vehicle for which  the haulage bill was shared between Unibank and IBG on the ratio of 9/30 and 21/30 respectively.
A report on haulage to Tema was presented to Unibank on September 30, 2009. The bank, according to summary of transactions, confirmed that Stewise Anator made a payment of GH¢1,000,000 on February 2, 2011, and also received an ADB cheque of GH¢4,850,000 from Stewise Anator on April 4, 2011, as final payment for the GH¢3,707,550.55 loan and GH¢300,000 working capital, plus the accrued interests of GH¢378,108.25 and GH¢31,661.92 respectively.