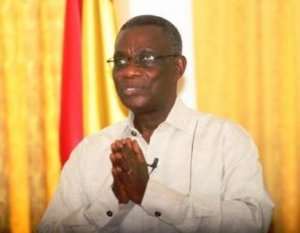 President John Evans Atta Mills
The Economic and Organised Crimes Office (EOCO) has indicted past and present government officials for negligence that subsequently led to the controversial Ghc51 million judgment debt to embattled National Democratic Congress (NDC) financier Alfred Woyome.
The head of EOCO, Mr Mortey Akpadzi, disclosed to the press the President of Ghana, John Evans Atta Mills, intervened on two occasions to stop the payment to the under fire philanthropist, but were brushed aside by his officials hence the payment of the GhC51 million.
Presenting EOCO's interim report to President Mills at the seat of government on Thursday, Mr. Akpadzi said but for the intervention of the President "things would have been worse. "
"Whatever we have presented is fully backed by the document we have on hand," he said. "We know it's credible. We'll wish to give His Excellence the chance to read. "
"We have realised quite some elements of non-performance on the part of officials who should have done what they have to do. But for the intervention of the President it would have been worse. The actions by past officials were further aggravated by current officials," he added.
Mr. Akpadzi added: "Every Ghanaian have the right to go to court but he [Woyome] doesn't have a basis for that writ. "
President Mills has directed the Attorney General and Minister of Justice to act on the report and make it public.
The NDC financier was awarded the whopping sum in 2010 after having made a case that the erstwhile Kufuor administration wrongfully terminated his contract to build stadia ahead of the 2008 Africa Cup of Nations in Ghana.
Following huge public outcry and media scrutiny, the President ordered the national investigative outfit to look into the facts that led to the payment of the amount, which the opposition NPP has described as the biggest loss to the state in the political history of the country.