Nurses Urged To Help Improve Health Care Delivery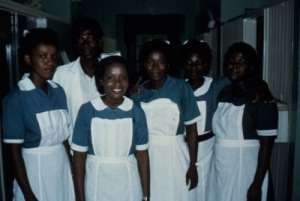 Nurses
Mr Kwame Adinkra Amo, Ashanti Regional Chairman of the Ghana Registered Nurses' Association (GRNA), has appealed to nurses to work harder to improve the delivery of quality health care to Ghanaians.
He said all over the world, nurses provide the majority of health services and that this called for much commitment on their part in spite of the moderate conditions of service.
He was speaking at the Regional Nurses' Week celebration in Kumasi at the weekend.
The event was on the theme, 'Leading change, building a healthy nation-emphasis on environmental sanitation'.
Mr. Amo stressed the need for stakeholders in the health sector to create avenues for nurses to upgrade their skills and capacity to enhance their competence.
He appealed to the government to speed up improving conditions of service of nurses.
Dr. Mohammed Ibn Ibrahim, Ashanti Regional Director of the Ghana Health Services, said the time had come for nurses to lead the campaign in creating awareness about good sanitary practices.
He said nurses should find time out of their busy schedule to educate patients on environmental issues to help reduce filth-related diseases.