Ghanaian Donates Medical Equipment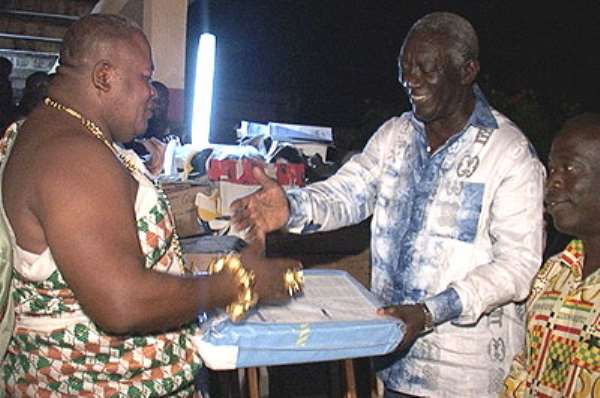 President Kufuor (right) presenting Medical supplies to Nana Kutu Ayin Baffour II, Paramount Chief of the Nsawkaw Traditional Area for the Nsawkaw Health Centre H E  J A Kufuor has presented quantities of medical equipment and supplies worth over 80 million Canadian Dollars to the Tain District Health Centre at Nsawkaw.
These were donated to the clinic by the Ghana High Commissioner to Canada, H E Mrs Margaret Amoakohene, a native of Nsawkaw.
 
Presenting the equipment, President Kufuor assured the chiefs and people of the Nsawkaw and the Tain District that with the creation of the district and selection of Nsawkaw as the district capital automatically raises the status of the town.
This comes with improved infrastructure like the upgrade of the town roads, upgrade the of the health centre to a district hospital and the building of a senior high school with the entire added infrastructure, among others.
 
Donating the equipment and the medical supplies, Mrs Amoakohene urged privileged citizens to use their opportunities of placement and positions to source support for the development of their native people.
She promised that her next donation to her native town and people will include educational material like computers for the schools in the area for the improvement of the academic standards of the students and pupils.
 
Nana Kutu Ayim Baffour II, the paramount chief of the Nsawkaw Traditional Area received and thanked Mrs Amoakohene for looking back to her people with much needed medical support.
He said with these he hoped that the health delivery system will improve and so will the health of his citizens.
To President Kufuor, Nana Kutu Ayim Baffour II thanked him for his support for the traditional area and the district. He promised to work with the little they have received to improve the lives of  his people and all who will visit the facility.