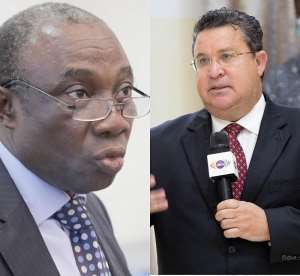 Former Minister of Power, Dr. Kwabena Donkor has admonished Ghanaians not to take World Bank Country Director Pierre Laporte as a serious technocrat.
This follows the Director's recent criticism of the former John Dramani Mahama administration on some agreements signed in the power sector.
"In the aspect of Ghana, those contracts you signed with the PPA are too expensive.
"The kind of PPA you signed, it means Ghana is paying for electricity not in use through doubling of capacity.
"The fact is, in the last few years, Ghana entered into some PPAs that were wrong. These types, in our view, were at the wrong rate and at the wrong prices and today you're paying duly for it. And today the country is being billed for many of these wrong PPAs", World Bank Country Director, Pierre Frank Laporte told Joy News in an interview.
Unhappy with the comments, Dr. Kwabena Donkor has hit back at the World Bank Country Director.
According to him, the Director is lashing out to pursue his own political ambition to become the president of Seychelles.
"More importantly, the World Bank Country Director is not a technocrat. Let's be very clear about that. He is a former Minister of Finance, former Minister of Trade of Seychelles as well as a former Governor of the Central Bank of Seychelles and currently a Presidential aspirant.
"He has his presidential ambition. He needs friends in the Sub-region and therefore his judgment is towards political ambition," Dr. Donkor argued.
The former Ghana Minister for Power added, "He is not speaking as a technocrat. If he was speaking as a technocrat he would have paid a lot more attention to the facts rather than political narrations.
"But this particular Country Director, if you even observe his body language, if you observe the way he even intervenes in this energy situation, it is so clear he is not a technocrat."