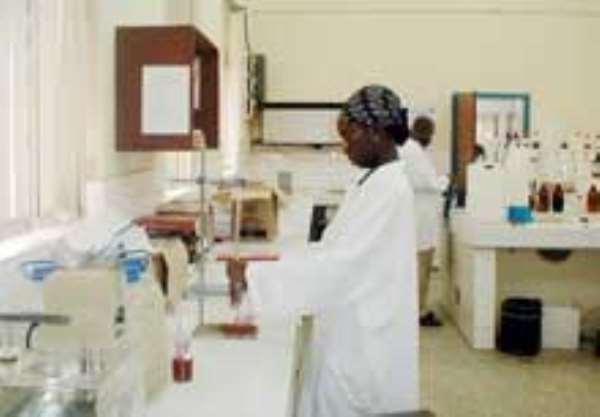 The Food and Drugs Board has placed a temporary ban on the advertisements in the media, market places and moving vehicles, promoting drugs, herbal medicines and any products that claim to cure or manage any disease condition. The move is in view of the health hazards associated with the abuse and misuse of such medicines as a result of excessive media promotion.
The board warned that it would not take kindly to any violation of the ban, aimed at ensuring public health and safety.
A statement signed by the Chief Executive Officer of the board, Mr E.K. Agyarko, and released to the media yesterday said "the board has observed with great concern the misleading nature of some advertisements, unsubstantiated and false claims being made through these advertisements, airing of unapproved adverts, advertising of products for cure of diseases for which the law does not permit advertisements and the dangers these adverts pose to public health".
It said "additionally, public places, markets and inter and intracity buses have been turned into advertising points and drugs outlets." The statement regretted that the practice continued despite the several interventions by the board which had included disclaimers, education campaigns, media workshops and arrests and prosecutions jointly undertaken by the board and the police.
It said much as the board recognized that manufacturers, media houses and advertisers generated revenue from advertisements, it must be noted that the afore-mentioned regulated products, particularly drugs, were not treated as ordinary articles of commerce and that public health and safety needed to be given the ultimate consideration.
The statement said "the board wishes to bring to the attention of manufacturers, importers, distributors, media houses, metropolitan, municipal and district assemblies and the general public that as from September 1, 2006, a temporary ban comes into effect on all advertisements of drugs, herbal medicines, cosmetics, medical devices, household chemicals, as well as bitters that make claims for cure, prevention or management of any disease condition."
It said during the period of the ban, the board, in collaboration with research institutions, would organize educational programmes for the media, district health management teams, district and environmental health officers, transport associations and other stakeholders to ensure maximum compliance when the ban was lifted.