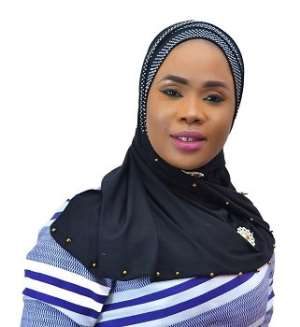 Hon. Hon. Hajia Humu Awudu NPP Parliamentary Candidate for Wa Central
I visit my Facebook page and saw a young smart lady, at several glances, never recognized her. However, I was automatically touched with the level of her social works' and philanthropy. Never met, even until today, however as the saying goes a good name pays. It is her deed of hard work and political approach that has made many descending youth and advocate gives her a thumbs up. Her Journey into political stardom started with the launched of Hajia Humu Foundation (HHF) influenced a large social media following base and public acceptability. Hon. Hajia Humu Awudu continuous her philanthropic gesture and women empowerment initiatives. Her prowess in breaking political bounds, non-tribal and non- sentimental approach is unparalleled. This indeed made her stand tall among her peers with an exceptional outlook to the good people of the Upper West Region and beyond.
Then came a political page of Hon. Hajia Humu Awudu the new giants in the world of Non- Governmental Organisation (NGOs) and Philanthropy as she was engaged to chairperson of the party youth wing of the Wa Central constituency, at this moment many communicators and commentators across the regions began to have different interpretations.
In the twist of events, my prediction on the political journey of Hon. Hajia Humu Awudu came to reality. Her rise to lead the NPP party in the Wa Central is not by virtue of chance, money influence, or lack of viable options, rather because she is a symbol of hope, the definition of humanity and visionary leader, respect for structures, development-oriented candidate and belief in the course of women and youth empowerment.
I had always been critical the NPP would settle on Hon. Hajia Humu Awudu, not just because they needed a fresh candidate to wrestle the Wa central seat from the opposition NDC, but because she injects some fresh breath to the party rank and file and looks very commanding to delivering the seat.
It is a point worthy to note that, Hon. Hajia Humu Awudu social work, private life, and political success so far indicate, she (Hon. Hajia Humu Awudu) is a special being designed to take Wa central to the promised land. From being abused as a sex worker to unmarried woman, she remained silent, found love and matching on.
On winning the NPP ticket, Hon. Hajia Humu Awudu defeated the largely favoured MCE to the hot seat of the NPP. She is on verge of making history, likely to be the first woman to represent the Wa central in parliament and the First Person on the Ticket of the NPP, and the first to defeat the NDC underperforming Alhaji Rashid Pelpuo, and the first female entrepreneur to win the seat.
Admittedly, Hon. Hajia Humu Awudu, WITHOUT a PhD has achieved more as a 'mere' parliamentary candidate than 16 years of Hon. Alhaji Rashid Pelpuo as MP for the Wa Central. Her communication desk reports without any strong opposing response, her personal statement issues on Facebook post confirmed her good works and to crown it all, her spirit of tolerance of insult and focused on youth development and women empowerment as footprints all over the Wa central constituency is enough justification that, the academic standard of obtaining PhD cannot be a benchmark for any political leadership. Education is about acquiring knowledge, but not automatically obtaining wisdom, becoming visionary and or developer.
I am particularly thrilled that, some distinguished women are given recognition in the political landscape of Ghana and for that matter, it is important Wa central constituents appreciate the dawn of change and re-examine the contribution of our MPs in his 16 years in parliament. It is time for new leadership
It doesn't mean women have no role to play in our socio-economic development, it is the greed of Men that rape and kill their dream; that threatens them to hiding; that humiliates them to silence, and that mock their capabilities to inactiveness. We must celebrate Hon. Hajia Humu Awudu for demonstrating professional competence, integrity and courage to defeat eminent party stalwarts in the NPP primaries.
Searching through the archive, I could only reference the political accolades of Hon. Hajia Humu Awudu to say if the Waala Kingdom was that of the Asante's she would have been referred to as reincarnated Yaa Asantewaa. If it was in the Kusaung Kingdom (Bawku Enclave) we would have been saying a reincarnated Madam Hawa Yakubu. She has indeed influenced and changes the narrative of the political lineage and atmosphere of Wa Central.
The ability to re-unite and re-organised the NPP in the Wa central is an indication that she has the adequate know- how to deal with conflict and crisis management. She has raised the standard of politics and demand for MPs to an enviable level that, our incumbent MP takes lessons notes from her work.
I advocate for women leadership and not just any woman, rather a developer, youth transformer, women empowering actor, visionary leader, hope for the vulnerable, a woman with vigour, tenacity, and a yearning desire to make a difference in the life of ordinary people. Hon. Hon. Hajia Humu Awudu, the Philanthropist, Patriot and Political goddess congratulations in advance.
Author: Tahiru Lukman
Email: [email protected]
Tel: +233(0) 209154057 / +233 (0) 551018778
Position: Youth Activist, Development Consultant & Pan- African Author