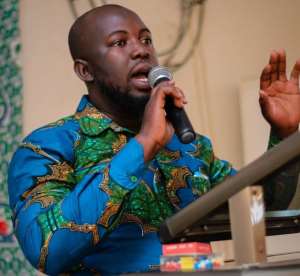 Once a peaceful town (Wa) that has positioned the Upper West Region as a beacon of peace and security in Ghana is fast becoming a hub of insecurity. Unfortunately, within this year (2022) seven mysterious and unresolved murder cases with four perceived to be Ritual killings have been recorded within the Wa Township. These unfortunate occurrences never attracted a strong condemnation, leadership and commitment from duty bearers, most especially the Regional Security Council. The latest incident which happened about a day or two after REGSEC announced some preventive measures is an indication that the leadership is only treating the symptoms and not addressing the root cause of these unfortunate murders. One is also tempted to conclude that our political leadership and other responsible stakeholders are concerned only with their safety but not the ordinary citizens.
We cannot have the head of REGSEC being a social media enthusiast and expect action. Truth be told Dr. Hafiz Bin Salih and REGSEC have failed in their responsibilities as no concrete steps have been taken to apprehend the syndicate since the incidence of serial ritual killing set in. In any serious democracy, the Upper West Regional Minister would have been shown the exit.
We have witnessed several robbery cases within major roads and location's in Wa Township and its environs with victims losing their valuables. It is infuriating to see residents of Wa continue to live in fear as a result of robbery cases and another alien crime of serial killings gaining massive roots in the Municipality. With seven people being killed and 3 still declared missing, we cannot continue to remain mute or praising political leadership that has failed in their duties. There are even unconfirmed reports of a lady who is currently receiving treatment at hospitality for becoming the latest victim as she narrowly expected death from her attackers.
It must be noted that failure to act in the earlier cases of reported perceived Ritual killings by the state authorities within the township has embolden the perpetrators to continue with their strategies and tactics to inflict more harm on the innocent and peace loving people of the Municipality. The measures put in place by REGSEC appear to be Adhoc and basic to put to end the spade of perceived ritual killings. Deploying police to stand at checkpoints and with most of them engulfed in social media chats cannot guarantee any efficient breakthrough in curtailing the crime.
Crime is fast becoming sophisticated and innovative and efficient strategies need to be employed. The measures outlined by REGSEC are mere coping strategies; for instance, the Ghana Immigration Service should take inventory of all hotels and guest houses in the Municipality, a piece of information that should be readily available to the Ghana Tourist authority. These are not proactive measures to give us any good results.
This appears as an organized crime and for that matter; REGSEC should have ensured that all vehicles including diplomats and any other private means will be searched from henceforth. Those parts stolen are probably transported with private means and so if police still stands at checkpoints and salutes private means what will we achieve in this regard?
There is the need for forensic audit and scientific report on all the incidents of perceived serial killings as well as researching into the phenomenon. The police must invest in e-crime fighting instead of the traditional policing mechanism which has outlived its usefulness.
There have been declining police visibility in the Wa Municipality and Wa remains a dark city as most streetlights are not functioning for some time now. These activities occur in dark hours and so REGSEC must stop the snail pace tactics and show leadership or be dissolved.
The traditional authorities must rise to the occasion or get perish with the political leadership. The youth and for that matter the citizenry are not interested in diplomacy and sweet talks, we need action backed by intelligence not "machoism".
Let me warn that, if the said development is not checked immediately, it will lead to radicalization of the youth, the proliferation of small arms in the Upper West Region as people will love to secure their guns for protection and violent crime will be inevitable. And this alternative advent will lead to further crimes and social disorder, especially when firearms enter the wrong hands.
Filed by
Tahiru Lukman
Author & Youth Activist
Tel: +233 (0) 209154057 / + 233 (0) 551018778
Email: [email protected]