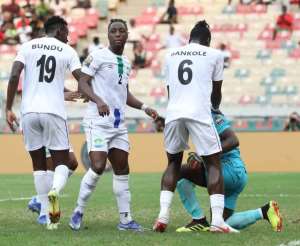 We continue to witness a lot of fairytales in AFCON because; it is the biggest festival in the continent for countries to show their talent in the world. Fast-forward Madagascar made headlines in the last edition (AFCON, 2019) beating Nigeria.
The biggest upsets of the ongoing tournament will continue to sound like a doorbell in the ears of many football-loving fraternities. Equatorial Guinea ended Algeria the defending champions 35 matches unbeaten run.
Earlier Sierra Leone continuing their impressive form by drawing 2:2 with the elephants of the La Cote d'ivoire.
Football is played everywhere and the quality of the African tournament keeps on improving. Most countries including Sierra Leon and Equatorial Guinea did not rely on players who have names but lack qualities.
Again, Sierra Leon and Equatorial Guinea did not call players who delayed reporting to camp. More importantly, their approach to football has been refreshing; together they all attack, defend and all remain focused.
One thing is important, names don't play football, rather a good character, resilience, determination, good tactical approach and diligence in call-up.
The performance of the black stars from commitment in the field and decision making among players regarding defending shows there is no communication and tactical class. There is still a realistic chance for Ghana to quality, but the lack of quality and the attitude of the playing body is a concern. We just don't have an agenda for football development. All the time we are building a team; when will we ever as a country finish building a team that will once again conquer Africa?
Sierra Leon, Equatorial Guinea, Gambia, Guinea among others has a lot of local players and they have proven their class. Ghana has less than 5% of home-based players and calls foreign players who are mostly playing in lower division or countries that are not much associated with football. The result is the poor show.
Tahiru Lukman
Youth Activist and Dev't Consultant
Email: [email protected]
Tel: +233 (0) 209154057