Freedom never comes - Part 13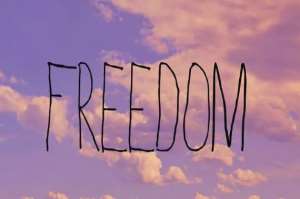 "Our concept of family is funny, I am telling you", said Moshe Shalom and stopped the truck, got out the ice-cream he had cooled in his big blue and white cooling box, gave one to Heinz Wohlfarth and sat by his side in the shade of the small hut he used as an office. "Take my sister and my brother...I mean I did not ask for them, right?"
"Right!"
"So, my parents made them to come to earth, right?"
"Right!"
"So, that they are there, and their blood is from our parents and the same blood runs in my body...is it my responsibility?"
"No, not at all!" answered Heinz Wohlfarth eager to discover what this conversation was all about and where it would lead him to. The ice-cream he was enjoying was full of nuts, delicious. The water by his side was warm by now.
"So, when something is not of my own will and my own choice, how can it be that it can be forced on me that easily?" asked Moshe Shalom while grapping the book to write the amount of loaded apple containers into, his record book.
"That is not fair...indeed," agreed Heinz Wohlfarth finishing his ice-cream. "No more ice-cream...not fair." He was laughing, so was Moshe Shalom knowing his friend is a sweet mouth of the highest standard. He digs into his cooling box, and, and got out one more ice-cream for his German friend.
"Exactly...I mean when the most important thing in a human`s life is his free will that sand tall above his body and his destiny, then we have a right in any sense, in any way, to decide which of our sibling, our family members we want to call family...in case we think that we should have a family or need something like a family at all. Why should in this moment of our life be different...only because of the past, the family we were sat into without being asked? And always consider that it is the people close to you, especially your family members that keep you back from your destiny or at least try by saying they know you are not capable of what and whatever so and so. But they do not know what you were born for, what God had decided for you. And when that is too much for them, they become jealous. Jealousy has killed Millions and Millions of people and ended their accomplishment of their destiny but please the wicked once when someone is not strong in body and mind and has not enough trust that God is above all things in life. No wonder that most people get in fact killed by family members and not by the unknown murderer. No wonder police are always first looking into the network of the family of any victim stabbed in the back or shot in the streets bleeding in the light of the day. Someone clever with a deep sense of what he is supposed to do on earth has always to be mindful and watch his back, clean his hands after shaking hands with the family, I am telling you the truth."
"You are right...I guess, that does not make too much sense, does it!" agreed Heinz Wohlfarth enjoying his second round of ice-cream. He emptied his mouth, took a sip of warm mineral water and said: "As we are made as beings...as human beings...unlike plants and animals with a free will to choose right from wrong...we must also be given the authority and freedom once matured to call only family people we want to be associated with and surrounded by...otherwise the whole concept of a human being to me does not make much sense at all."
"There you have it! Give me High Five, my friend!" The sound of hands shaking friendship was clearly to hear. "My free will as human being stands tall about the blood that is in me and the past as a baby and child and teenager I went through. Past is past and present is the preparation for the future, simple as that. Therefore, as matured man I can use my own free will and choose the people I want to call family. Maybe this are the people or some of them I was born by or born into their life...but this can possibly never be by force. When I am of sound mind and can reflect on my own life and see what my life has been created for I must come to understand that I only need people around me that are not holding me back by blood line but help me to move ahead in life by adding to my life what I do not have but need to reach my destiny...from level to level."
"I agree as we are not here on earth for our family and friends but for our destiny...to accomplish it and have a stone left behind with our name written on it," mentioned Heinz Wohlfarth ready to take the sheet of papers and stick them onto the apple containers as morning break had ended.
Heinz Wohlfarth was feeling someone putting his arms on his shoulders while he was sticking a sheet of paper onto one of the apple containers close to his head three containers above the ground. He turned round, looking into the smiling eyes of a blond young woman he was so happy to see that moment. "I was thinking of you while working!"
"So, it does not come as a surprise to you that I am standing here right now?"
"It is strange...but...somehow it is not a surprise!" answered Heinz Wohlfarth holding his brush with the glue down to the ground to ensure it would not spoil her blue overall she had picked up this morning from the laundry. He looked behind her and saw Moshe Shalom busy no time for him to have realized the instruction of a female into his territory. He loaded container after container ensuring its safe placement on the truck.
"What makes you come here?"
"Oh, I just wanted to see you!"
"Just like that?"
"Yes, just like that. Or it causes you any problem?"
"No, not at all. Here we are free. I mean we work hard...I mean sorry, we work when work comes to us...so not so much like you people in the orchard picking the apples we in the end load onto trucks...but eating ice-cream and chatting along is also not too bad!"
"So, you are telling me, you have a hell of a good time here...lazy to the bones!"