Covid - 19: Remalj Carewell Inspirational School Donates To Health Facilities.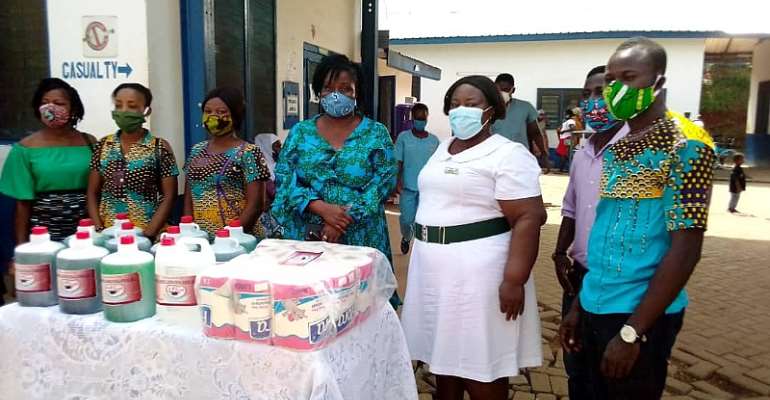 Remalj Carewell Inspirational School located in Bogoso in the Prestea Huni –Valley Municipality of the Western Region has donated some preventive items to some health facilities in the Prestea Huni – Valley Municipality.
The three health facilities which included Prestea Government Hospital, Bogoso Health Centre and Brakwaline Clinic received apiece, 22 gallons of liquid soap, 3 gallons of hand sanitizers and packs of tissue papers to help fight Covid -19.
Presenting the items, the Proprietress of the school Mrs. Emefa Gyamfi stated that, it is time institutions whether big or small come on board and help the fight against the Covid-19 pandemic.
She said when such things happen, with unity Ghana can win the spread of the virus.
Mrs. Gyamfi who was much concerned about the health of her pupils said, the reason she chose those health facilities was that the various communities in which the health facilities are located are where most of the school kids come from.
"I chose these health centres because we have a lot of our children coming from these communities", Mrs Gyamfi stated.
She was of the hope that, when the health workers are safe, the school children will also be safe.
Mrs Emefa Gyamfi later advised her colleagues to also contribute their quota to the fight against Covid-19 in Ghana.
Receiving the items on behalf of Prestea Government Hospital, the Matron at the facility Mrs. Theresa Smith Abbey expressed her appreciation to the proprietress of the school.
She stated that the items would be used for the intended purposes.
She acknowledged that the items had come at the right time because "this is the time the facilities need such preventive materials to keep people safe".