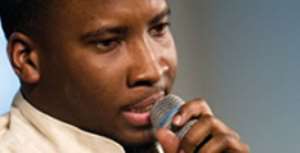 Minister Sonnie Badu is one of the chosen worship leaders of our time, a songwriter, composer, arranger and business man.
His unique blend of intimate worship, high class visuals, and his energetic style of ushering congregations into the presence of God is affecting lives worldwide.
'The Worshipper', as he is popularly known was called by God at a very tender age. His testimony even at the age of 24 is one of struggle and triumph. He can be simply described as 'a man after Gods own heart'.
Growing up in Ghana, Sonnie has worked alongside some of the top Gospel artists and Ministers of God all over the world. When you speak with Sonnie it is clear that one of the things that sets him apart from his peers is the simplicity with which he administers deep revelations of God. Worship touches the heart of God, and an understanding that this is the one thing God cannot do for himself is what makes Sonnie a servant and a friend of God.
For Sonnie Badu, it is an honour and privilege to stand and lead God's children in the art of spiritual intimacy. For Sonnie, man was created purely for the purpose of praise and worship. Therefore, the more you fulfil Gods desire, the more He fulfils yours. '...And these signs shall follow them that believe', Mark 16:15.
Sonnie Badu's ministry houses the presence of God and where God's heart is, His hand will be. Testimonies of healing and breakthrough follow him wherever he sets up to praise, for more information see, www.sonniebadu.co.uk.
Of the manifold gifts Sonnie Badu has been entrusted with, by day he is also a property investor and one of the founding partners of the biggest property investment companies in South London, Mighty 3 Investments, for more details visit www.mightythreeinvestments.com. Sonnie Badu is an end time general in the army of the Lord. Listen to his God inspired song Baba that is taking the whole nation by storm.
Originating at www.pinnaclegh.com