KKD hosts finale of "Valentine Chronicles" on Cine Afrik tonight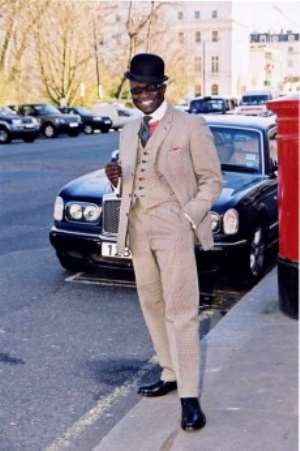 Cine Afrik's newest, freshest and hottest love show, "VALENTINE CHRONICLES" is bringing the entertainment world to a gradual standstill as the TV Show which started screening daily on the channel since February 10 2012, rises to an unforgettable climax tonight.
Sensational smooth talker and ever finest Kwesi Kyei Darkwah is the show host.
Kwasi Kyei Darkwah, is an award-winning broadcaster, communications director & trainer. He is arguably Africa's finest television & event host, creative marketer, quick-witted judge on the popular West African TV show Project Fame.
He is a well-dressed presenter of TV Shows and live events including The Valentine and Republic Day Specials, Ghana Music Awards, Bands Alive, Miss Ghana Beauty Pageants and The African Music Festivals with the Maestro Kojo Antwi on Christmas eve.
KKD holds a Master of Arts Degree in Film and Television Production from the London Metropolitan University, Certificates in Marketing Management from the Ghana Institute of Management and Public Administration, Production and Cost Management from the Association of Overseas Technical Scholarship of Japan, Delivering Learning to Adults from Westminster Adult Education Service UK and Diploma in Journalism from the Ghana Institute of Journalism.
Also known as Ghana's finest; KKD is a well-mannered and uniquely stylish presenter and public speaker.
His skill set ranges from strategizing for public affairs and marketing communications for public and private institutions, copy and speech writing, presenting broadcast productions and live shows.
In spite of the sub-region's limitations in logistics, his professional approach and dedicated work in media planning, creative direction, event management to delivering professional training for broadcasters, marketers and communicators is well noted here in Ghana and abroad.
He is an insightful speaker on the arts, media and culture whose courteous and stylish manner is well admired and emulated.
Multi TV's first ever Valentine Chronicles is going to be another milestone for KKD as the show has lived up to its promise, getting exhilarating by each second every day.
As the Valentine Chronicles rises to an unforgettable climax, make a date with KKD Live on the Cine Afrik Channel on MultiTV today, Tuesday February 14 at 6pm for a refreshing and a memorable love-filled valentine.