Who Goes Home After A Brilliant Night Of Culture?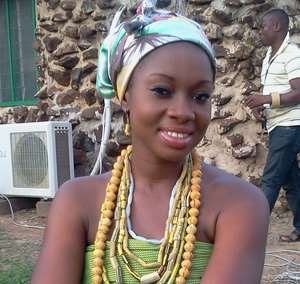 Mikafui, one of the contestants.
The ninth season of Miss Malaika Ghana is getting exciting as the competition gets keener after each week of tasks, and more especially as the first eviction approaches.
Last weekend saw another intriguing episode of the competition which was dubbed 'The Culture Night'. The episode was recorded in the tranquil environs of the multi-purpose Stone Lodge located at Asutsuare in the Eastern region.
It was a night dedicated to the cultures of the diverse ethnic groups of the 16 contestants. It started with a lecture on the embodiment of the Ghanaian tradition, customs and norms by a major player in Ghanaian theatre and also artistic director of the National Drama Company of Ghana.
Then it was time for the 16 ladies to unveil their different cultures. It was a spectacle watching how some beautifully performed the dances and narrated the history of their ancestors.
First was Gerry, a Ga from the Greater Accra region.
Magdalene gave an amazing narration of the history of the Homowo festival of the Ga people, who are supposed to have migrated from Israel. She was dressed in a Ga royal outfit with a host of beats around her neck.
Another contestant whose performance could be described as fantastic was Rita. She effectively combined elements in her culture to enlighten everyone on the negative practice referred to as Trokosi.
Aside the fun and excitement from the contestants, 'The Culture Night' could be described as one of the best episodes ever in the history of the competition. It brought to light and to the attention of viewers the essence of upholding the values and norms as a people.
However, the competition continues this weekend with the first eviction episode and to avoid your favourite contestant from being evicted, text her name to the short code 1575 (all networks).
This will be followed by the next task, a cooking competition by the 16 finalists, namely Geneivee, Rita, Nana Konadu, Esi Doe, Alex, Afriyie, Emma, Viola, Daisy, Gerry, Felicia, Mikafui, Smallie, Asi, Priscilla And Magdalene.