TIM GODFREY DRAGS STELLA DAMASUS, JEDI, OTHERS TO ALBUM LAUNCH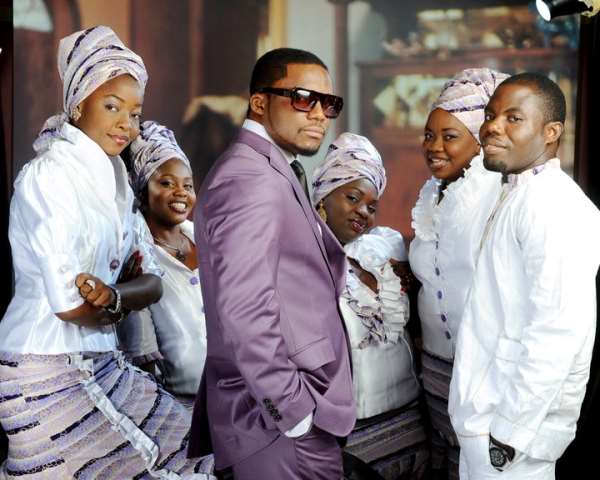 Nigeria's fast emerging and well travelled gospel group, Tim Godfrey and Xtreme Crew last week dragged celebrities, fans and friends like Stella Damsus, Jedi, CD John to an high brow hangout on the island for its much-awaited album listening party.
Opening the night with an angelic rendition of the national anthem, guests knew they were at the event for a nice time.
Coming after the national anthem was popular screen diva and a big fan of the group who came up to do a brief introduction of the group. She let the guests into her first meeting with the group also went on introduce the first performer for the night, Paul, a member of the Tim Godfrey and Xtreme crew team. Paul serenaded guests and sang his way through the hearts of the guests who could now see reasons why he got himself a spot in the number one gospel group.
Paul soon gave way to Lamboghini, also a friend of the group. Lamborghini literally heated up the roof with his dancehall tracks that reminds one of the American gospel musicians Papa San. Hosts of the day, Tim Godfrey and Xtreme Crew then came up to take it over form where Lamboghini stopped. They did not just sing, the group performed and entertained guests that even non-Christians in the house had a nice time dancing to tracks like Obuliwom and Onyedikagi.
The host soon took a recess as they made way for up and coming comedian, CD John who cracked enough ribs that night with his jokes that were fused with songs. Coming after CD John was fine boy comedian, Jedi, Jedi didn't just crack jokes, he also performed Ty Tribbet's "He's able" with members of Tim Godfrey and Xtreme Crew.
Tim Godfrey and Xtreme Crew took over from Jedi, they performed their hit tracks like Folo folo and Agidigba.
The night was not done yet upcoming comedian, Akpororo brought the event to a climax, and recognizing the fact that it was a listening party he made jokes of songs and did popular gospel song, "Days of Elijah" in Isoko.
Speaking on the reason for the listening party, Tim Godfrey said 'we have been working on this album for a while and now that we are done we want to unveil the result to our friends, family and the media. We also want people to come and have fun digging it and moving their bodies to our songs'.
Tim Godfrey and the Xtreme Crew nominated for Musical Excellence in 2005, by AMEN AWARDS, has continued to take giant musical strides. They performed alongside Sammie Okposo, Sunny Neji, Folake Omusen, in South Africa during the KORA Awards 2005, performed in Ghana during the Ghana Music Awards 2006, toured five (5) states in America in June 2006, inter-states tour with Nigerian rated best gospel Artistes organized by a UK based music company "SET HIM OFF MUSIC MINISTRIES" September 2007.
The sixteen track album with an undeniable lyrical strength consist of such songs as "Hero", "Igbo Medley", "I dey wonder" and the hit song "Agidigba" which is currently enjoying airplay. Tim Godfrey and the Xtreme Crew have also gone ahead to shoot videos for their songs "Agidigba" and "Hero"
Tim Godfrey and the Xtreme Crew gave out free copies of their CDs to guests on the night of the listening party.
Tim Godfrey and the Xtreme Crew is made up of Tim Godfrey himself and Adesua Omoaghe, Blessing Austin, Philip Abel, Chinwe Orji, Yemisi Ashaolu, and a team of skillful professional musicians like Nnana Solomon, Nweke Sunday, Ochocho Mairo, Perpetual Ikechukwu, and Paul Martins.
Watch video of Agidigba on http://www.facebook.com/video/video.php?v=1663791921802