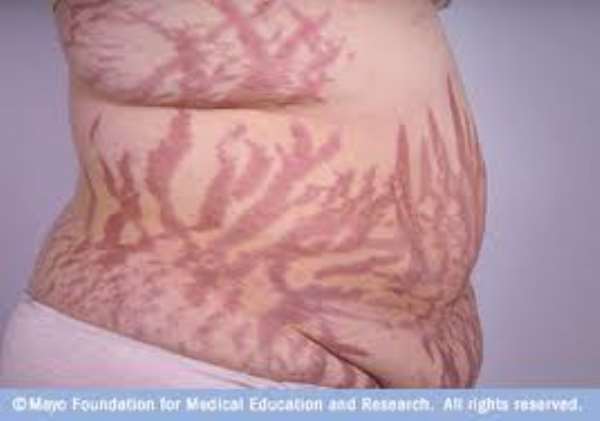 Stretch marks, or striae, are skin blemishes that occur due to the breakdown of the centre layer of skin, primarily due to sudden weight gain or loss.
The middle layer of skin helps maintain the structure and tone of the body's largest organ, and when it is unable to cope with sudden changes in body weight, unsightly stretch marks can appear.
Stretch marks cause people to feel almost as bad about their appearance as an acne outbreak does. If you have lost your self esteem as a result of stretch marks, implementing the following tips can help you to a large extent.
Tip #1
Keep your body well hydrated. Dehydration leaves your skin more prone to tearing and can also prevent healing. Drink at least 8 glasses of water each day. Apart from drinking a lot of water, ensure that you get adequate exercise. Exercise helps tone your body, and can make your stretch marks look less prominent.
Tip #2
Massage the affected area every day. There are a number of moisturisers available that claim to help reduce stretch marks. However, the best way to beat stretch marks is to opt for natural solutions.
Aloe Vera is an excellent healing agent and is extremely effective when used along with olive oil on stretch marks.
Cocoa Butter has also been proven to be very effective with regard to getting rid of stretch marks. Giving yourself a regular massage with Cocoa Butter or Aloe Vera and olive oil will help lighten stretch marks visibly.
Tip #3
Use a body brush to get your blood circulating. Body brushes are soft-bristled brushes which can be used on dry skin for exfoliation as well as toning. The body brush is best used in the morning.
Boosting your blood circulation will get rid of cellulite which makes stretch marks look worse. Better blood circulation will also accelerate healing of striae and will prevent new stretch marks from appearing.
Tip #4
Avoid the temptation to experiment with over-the-counter medication. If you have a very severe problem with stretch marks, it would be more advisable to get the advice of a qualified dermatologist.
Depending on the intensity of your problem, laser removal of stretch marks might be suggested if simpler methods do not work.