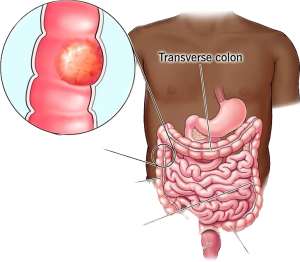 March is designated Colorectal cancer (CRC) awareness month. In Ghana, the incidence of CRC remains low at 3.9 cases per 100,000 (compared to 25.6 cases per 100,000 in the United States), but has increased several folds since the 1960s, and this can be attributed to western style diets high in fats and processed foods, Overweight and Obesity and lack of physical activity. Screening can lead to early detection of precancer and early cancer lesions that can be treated. Early detection can save lives. Screening for CRC is low in Ghana although government has recommended annual CRC screening with fecal occult blood testing (FOBT), for those aged 50-70 years.
Researchers from the Komfo Anokye Teaching Hospital in a 2022 study identified barriers to screening in Ghana to include lack of education, financial burden, reliance on religion and alternative/herbal medicine. On the government level they attribute barriers to low prioritization, lack of access to FOBT, inadequate national education and lack of addition of screening into the National Health Insurance Scheme.
RISK FACTORS:
Age- those above 50 years
Personal History of Colon cancer
Growths in the large bowel called polyps which may be Precancerous
Family History of CRC
Overweight and Obesity
Excessive Alcohol and Tobacco use
Lack of regular Physical Activity
Diets low in Fiber, fruits, and veggies🥬🥕🥭
Personal History of Bowel diseases known as Crohn's and Ulcerative Colitis
Radiation to the abdomen and pelvic area
COLORECTAL CANCER SCREENING METHODS FOR CRC
There are SIX recognized screening methods for CRC, and these include:
Guaiac Fecal Occult Blood Test gFOBT- detects Blood in the stool.
Fecal Immunochemical Test (FIT) detects hemoglobin in stool
Stool DNA looks for abnormal DNA and blood in stool (Cologuard)
Virtual Colonoscopy Images of the colon using special imaging techniques
Flexible Sigmoidoscopy- A tube with camera introduced through the anus
Screening colonoscopy- tube introduced and looks inside entire colon and polyps can be removed if seen. This is the "gold standard" test.
Each test is repeated at specific times ranging from yearly to every ten years
PREVENTION
Life style changes- regular exercise, weight loss, eating fruits, vegetables, high fiber foods and decrease amount of red meat and fat consumption
Start Screening as described above. Screening now starts at 45 years and earlier if one has strong family history of colon cancer.
Know about your Family History
If you wish to get screening by a stool test, contact any lab like MD Lancet, or call Laboratory scientist Mr. Hooper (PH: 0277036110). For the colonoscopy/sigmoidoscopy contact a gastroenterologist at a hospital like Yeboah, Euracare, or SSNIT hospital; Or a gastroenterologist/colorectal surgeon at any Teaching, Regional or District hospital.
I trust this has been useful and you will share this with family and friends.
Dr. Barbara Entsuah (Family Medicine Physician, Speaker, and Author)
#Loveyourbody# ❤️❤️❤️
Latest book "A woman's Guide to her Body and Total Health" Take Charge of your Health