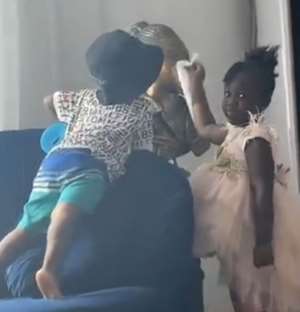 A recent video of what Reggae Dancehall artist Stonebwoy' kids, Janam and Jidula Satsekla are doing to his statue has rocked social media and netizens are talking.
In the video, the kids are seen cleaning the statue of the Dancehall as their mother secretly captures them in a video.
Initially, the kids were seen wiping the nostrils of the statue with handkerchief.
Speaking to the statue as though it was their father himself, Jidula, the elderly daughter is seen asking it to blow its nostrils harder while Janam the youngest stands by.
Check out the video of the kids 'thoroughly ' cleaning their father's statue.