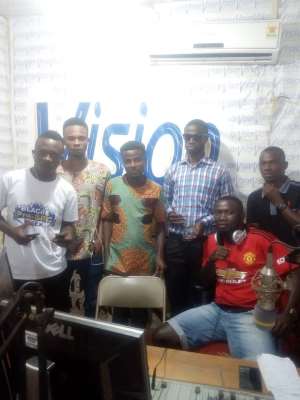 The Award winning blogger/promoter in western Region; Mr Emmanuel Baidoo popular known as xbills walkergh was hosted on vision FM entertainment show about his recent victory in the just ended Western showbiz Awards festival 2018, Xbills who hails from a town called Sefwi Yawmatwa in the Wiawso Municipality in the Western North region really deserved to be awarded for his hardwork and dedication towards blogging and the promotion of underground artistes to the outside world and also promoting the culture of the land.
Through the hard work of xbills, a lot of underground artists have gained recognition in the region and beyond. A lot are also getting their breakthrough in Ghana Music Industry. Xbills was questioned about the Secret behind his Victory; and in response, the Best Blogger attributed his success to hard work and Determination and believing in yourself.
He also did talked about the fact that he couldn't have done this without the help of the Almighty God. Touching again on the Secret behind his victory, Xbills said he is always concerned about the kind of messages he puts out there;making sure that the news is always accurate. "I don't believe in creating fake stories just to get people's attention, I believe in Quality ". Said the best Blogger. And this obviously has been recognized by the Organisers of the awards scheme thereby putting the site were it actually belongs (the best promoter/blogger in the western region).
In response to whether he could say that his site is a credible site in the country , Xbills answered yes, Citing that very popular websites like Ghanaweb.com, modernGhana.com, Browngh.com, Mynewsgh.com etc and hitz FM, peace FM, and many more FM stations like their daily news from the site and also support the brand. He later expressed his appreciation to all these media houses.
Xbills officially announced that He together with his team would be launching Ghevent and also dedicating the awards to the general public. This launching, he said was going to be on 30th December, 2018 and therefore calls on all media houses and companies to come sponsor this great event. He also called on the general public and government bodies to help launch the Site successfully to push the dream of the best blogsite in the western Region to the another level.
The show which was hosted by shatta Desmond the DJ of the moment on vision FM entertainment desk show, xbills was accompanied by Salifu; ghevent operations manager at western north region. Xbills expressed his appreciation to his managers and also the general public for believing in the brand. He called on the them to expect nothing but the best.