Ghanaian Comedian begs Zylofon Media to save the Comedy Industry in Ghana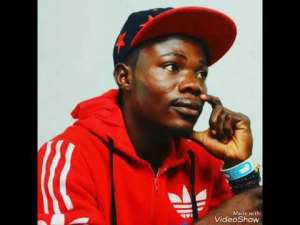 Ghanaian Comedian Micheal Egyir with the showbiz name Koo Posow is on his knees begging one of the record label and artiste management giants in Ghana Zylofon Media to rescue the Comedy Industry in Ghana.
Chatting with Journalist Komfa a reporter, he lamented that the spirit of Comedy in Ghana is gradually fading off due to the lack of fun or sponsorship pumped into the industry. Koo Posow believes that most of the wealthy or entertainment firms only place their attentions on only movie and music leaving the Comedy to die off.
"Most of the big men only pump their money in the music industry, movies leaving us the comedians. In reality laughing is a form of therapy and it is good if these big men come to our aid and rescue the Comedy industry because it is gradually fading off from the scene". He disclosed.
"I am on my knees begging Zylofon media to sign some of us talented comedians, they should invest in us so that comedy in Ghana doesn't fade out. I am really begging them to rescue the comedy industry". He added.
Koo Posow is talented Comedian who emerged into the scene in 2013 with shot comedy series. Since he was introduced into the comedy industry I can say he is one of the competitive comedians Ghana should watch out for.
He has featured in a lot of Comedy series which includes " CIRCLE ABRABO" that is shown on Adom tv.
Kwadjo Nkansah Lilwin, Don Little and Micheal Afranie are the stars he has worked with so far.
A comedian his mission is to make Comedy dominate the face of Ghana like dancehall or afro-pop music.
<iframe width="560" height="315" src="https://www.youtube.com/embed/0kIuFn_eqkI" frameborder="0" allow="autoplay; encrypted-media" allowfullscreen></iframe>
<iframe width="560" height="315" src="https://www.youtube.com/embed/PLmGm_qOcZY" frameborder="0" allow="autoplay; encrypted-media" allowfullscreen></iframe>