Basketball's Biggest Party Live On DStv's SuperSport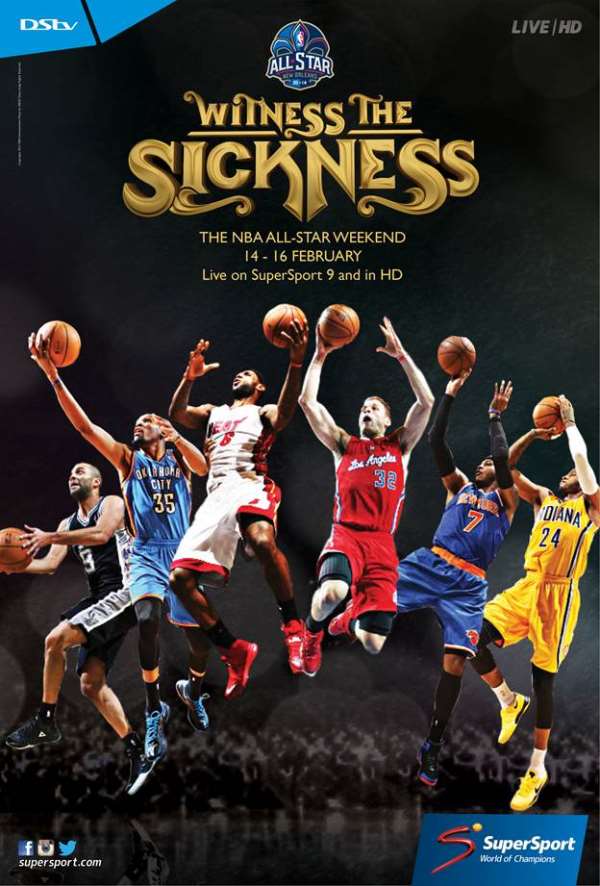 Other than being basketball's biggest party, the National Basketball Association's (NBA) All-Star Weekend is a well-deserved break from the hustle and bustle of the regular season action for players. It is an opportunity for them to exhibit the skills that have turned them into household names in a less pressurised environment and to also put on a show of epic proportions for the masses in attendance and those watching worldwide.
Indeed, everybody still remembers a baby-faced Kobe Bryant's under-the-leg dunk at the 1997 edition which brought the crowd off their seats in awe and was awarded 49 out of 50 by the judges.
SuperSport viewers will have the opportunity to witness the thrills and spills of the All-Star Weekend starting with the Rising Star Challenge on Saturday morning (from 4am CAT on SS2HD and SS5), culminating with the highly anticipated All-Star game between the West and East Coast Conferences on Monday morning.
The big question just days from this year's edition is "will he or won't he?"
Having shunned the dunk contest for over a decade, the league's biggest star, LeBron James, recently held his own dunking contest and also came out guns blazing saying he would easily win if he entered. The dunk contest is on Saturday morning on SS2HD, SS5, SS9 from 3.30am CAT.
Broadcast details
Saturday, February 15
Rising Star Challenge
SS2HD, SS5, SS5N, SS9, Maximo (04.00am CAT)

Sunday, February 16
All-Star Saturday Night
SS2HD, SS5, SS5N, SS9, Maximo (03.30am CAT)

Monday, February 17
West Coast vs. East Coast
SS2HD, SS5, SS5N, SS9, Maximo (03.00am CAT)