Akwasi Agyeman Makes Final Journey Home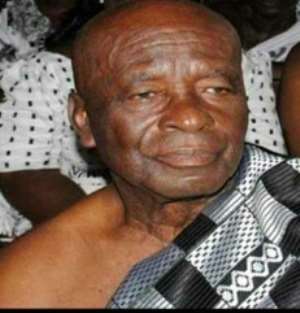 Manhyia dehyie brempon,
Barima Akwasi Agyeman is gone!
Amid the encircling gloom,
a shadow ducks deep into the dark clouds.
The lightening rod has taken a bow!
He's long gone!
I saw his shadow pacing through Highway 2020. He made the exit on 86 D. Thereupon, I couldn't see him anymore.My eyes searched in vain- hither and thither. He'd already crossed o'er the River.
It's the scariest bridge ever.
Yet billions from here had made it there.
And billions will follow suit at a time unbeknownst to us. I'm told it's a journey no one can avoid. Now a void is left, as we mourn like doves for our beloved one.
So, how many rivers do we have to cross?
And how many times must we succumb to this monster? In bold he approaches his victims- merciless, senseless, viciously uncompromising.He doesn't respect anybody- the powerful, the famous, Queens and Kings. His name is Undying Death (Bamua wuo).
He's dealt a blow to Manhyia, Asanteman, family and friends. Clad in black, and in red we mourn in unison. Misery, and sorrow have found us, as your journey to the unknown world also brings back old memories.
Nana, when did we first cross path?
I'm sure you haven't forgotten a bit of that encounter. It was around summer 1996.
It was at sundown.Dechemso (precisely Kwasi Agyemankrom) a suburb of Kumasi is relatively quiet. An inquisitive journalist from 'The VOICE ' newspaper waits on the Mayor of Kumasi Metropolitan Assembly (KMA). The visit is unannounced. And the journalist unknown to the maverick.Your car zooms past him. Engine still running downhill from a distance about 150 metres away.
Soon a brawny man steps out from the car, fiercely looking. He'd approach the journalist standing at the northend side of your residence. "Who are you and what's your mission here," he asks. That's Medase your body guard.
Actually, you sent Medase two times to tell the journalist, that you weren't ready to see him.
But he insisted he wasn't either going back to Accra until he got to meet with you. It paid off!
In the end, all turned out well. See, I wasn't 'kakaamotobi' a caricature or scarecrow.
I know you haven't forgotten that either.
The smile on your face says it all.And it tells me even though you're gone, you're with us in spirit and you'll be missed badly.
Maybe you've forgotten how much time we spent together. Maybe you've also forgotten how you spared a certain Queenmother (from one of the communities in or around Kumasi).
"I would have dealt ruthlessly with you, had it not been this journalist, (Nana)," you told her.
I could see her legs shaking in her cloth and how she left your residence as if the police SWAT team was closing in on her.
KMA had demolished a petrol station built somewhere in the city. The filling station had been sited on a road and the owner was the said Queenmother.
Did she think she could persuade Okum kom Katawire?
"How dare you?..how could you do this?
And you call yourself a Queenmother.
How could you build a petrol station in the middle of a road?" he quizzed.
And oh, some stores, kiosks, stalls at Asafo market and other sprawling suburbs in the Kumasi metropolis came under your knife.
The demolition exercise affected them.
Huge loss
The illustrious son of Asanteman has been taken away by the monsterous storm.
But what he failed to do or couldn't do was to obliterate the things you did for Asanteman (Kumasi in particular) and people across Ghana.You were incredibly an outstanding individual.You stood tall among your peers. Your popularity in Kumasi and beyond Asanteman soared.
Nana, you stood your ground.
But I think you were misunderstood by Kumasians. You're a disciplinarian.
And your passion to deal with indiscipline met stiff opposition. That was who you were.
That was what you stood for. Mr. no nonsense.
You were as ambitious as Lucifer. You wanted to make Kumasi the cleanest city in Ghana.
That objective was crucial to you in spite of the criticisms you faced, amid name calling.They said you were becoming too powerful and too pushy.
But I saw you differently. No, you weren't pushy.
I know you weren't. I know, you couldn't stand the indiscipline that was chocking up the city. You knew it would have a toll on Kumasi.
You foresaw, the filth and the garbage mountains that were lurking around.
Yet, many thought you'd your nose up in the sky. Nonetheless, you'd your part and you made a mark-- a remarkable one of course.
'Mo ne yor,' Mayor!
Barima beyeebi...
Other memories & kindness
Maybe you've forgotten what you told me about 'The Pioneer' a Kumasi-based newspaper. I can't reproduce it here.But surely, it'll forever stay with me. You literally cracked me up.
I didn't know you'd great sense of humour. Indeed you weren't the sadist beast some folks likened you to.
You conducted me around your beautiful abode and showed me many stuff in one of the rooms. They were things your uncle Nana Agyeman Prempeh the II gave you. Among them was the vintage Rose Roys, the beautiful artifacts and other precious stuff.
Indeed, you were kind but many didn't know that. You told me this story too about one Agya Tawia, a Fante who lived in Kumasi many many years ago.
"Agya Tawia took care of my family.
That made us who we are today.
He supported us in many ways. How could I forget about that old man. In view of that generosity he showed us, every month I make sure I support his family in cash and in kind."
Nanteyie Odehyie!
Dasebre Kwansobrebre!!
Indeed, we know Spring is comin'.
But we don't know what it would bring.
Damirifa Due!!
By Gordon Offin-Amaniampong