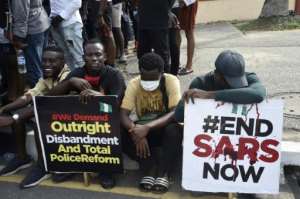 Whenever I see the majority poor hit the streets I know they're a harbinger of approaching unrest. An unprecedented one that could tear apart the social fabric.
Indeed, what's happening in Neighbouring Nigeria has been shaping up over the years. Years of inability on the part of governments in that country to fight corruption, and end violent crime such as armed robbery, carjacking, burglary, assault, kidnapping rape and the rest.
For many years Nigeria's aristocrats, politicians, bankers etc have shown insensitivity to the plight of the downtrodden. And they've deliberately been engaging in all manner of corrupt practices, thereby impoverishing the average Nigerian.
Did you see or read the post by legislator SOB Agunblade?
The Ikorodu Constituency lawmaker has ridiculed himself. In the midst of #TheENDSARS protests, he wrote this: "COVID-19 palliatives looted from my house were to be distributed on my birthday."
Hello Agunblade, who cares about your birthday when people are facing life-threatening illness?
That's a trait of a narcissist: Expecting to be recognised as superior even without achievement. It's this type of corruption that's killing Nigeria.
In 2016, Mohammed Lai, information minister urged Nigerians to rally behind their governments to find a permanent cure to the putrid that has been plaguing the nation.
"If we don't kill corruption, corruption will kill us," said the minister.
Today, four years on, Nigerians are facing the reality. Africa's most populous nation has had a rude awakening as the storm erupted early on this month
There have since been burnings, shootings and lootings in Lagos, Abuja, Ibadan and other major cities. And it seems every street corner of the oil-rich African nation has had the taste of the venom.
Was SARS the major problem?
I beg to say no. SARS wasn't the major problem. However, it was SARS's inglorious actions that broke the camel's back.. Remember, before the establishment of SARS in 1992 there was corruption. There was insecurity and there was unemployment. NEPA, Nigeria's power producer has woefully failed the people. No power, no jobs,, no health care incentives you name it.
That notwithstanding one couldn't overlook how SARS traumatised the people. How it made lives uncomfortable for Nigerians. The human right abuses and all that. So, it didn't surprise many when
the people held SARS by the throat.
The Special Anti Robbery Squad, now defunct was thought to be neck-deep in extortion, kidnapping, killing and brutalising
On Sunday 11 October 2020 following the incessant pressure and widespread protests across Nigeria, the Buhari administration dissolved SARS--the arm of Police force under the state criminal investigation and intelligence department (SCID).
Yes, SARS was bad no one could deny that. But the rot in Abuja -- the administrative capital is sickening. The age-old morass in Asor Rock is eye-popping. The profiteering and the wanton loot in Lagos are more concerning, the hoarding in Ibadan and elsewhere in Nigeria is overwhelmingly upsetting.
These rots and other existing ones, I believe have conspired against the progress of Nigeria.
Obviously, the forces behind the malfeasance do so in a larger scale than SARS.
Mind you corruption in Nigeria predates the days of Okonko.
And until, Nigerians of all backgrounds, status, gender faith or creed determinedly fight to eradicate the canker this specter will come back to hit the streets another day in a decade time. I touch wood though. That said, I think this should be a wake-up call to all governments across Africa. And it goes to all citizens of the continent. Because it appears we are all corrupt.
Why should a nation endowed with natural resources and immeasurable human capital be going through this malaise?
Again it seems everybody in Nigeria is corrupt, including those that are supposed to fight the canker. The images on our TV screens, newspapers and on social media attest to that.
How can a few individuals steal billions from the nation's kitty when the nation is reeling in abject poverty? How can one siphoned billions out of the nation when Nigerians are groping in pit darkness?
How do you feel when you see the graduate youth travel abroad on the high seas in search of greener pastures?
A lot of the nation's leaders are lost in a morass of lies. And there's obviously no cure to that infection. This is because corruption in Nigeria is like the African driver ant or the Bluefin tuna that lays a million eggs per day across Nigeria.
How much money did General Abacha alone steal from Nigeria? In 1998, Abacha alone reportedly stole between $3-5billion. And how much did the energy minister also steal?
According to reports more than $1 trillion is siphoned out of developing countries every year.
These are monies that could have transformed the nation by building factories, schools, roads etc.
Mohammed Lai was right.
"If we don't kill corruption, corruption will kill us."
He told Reuters in 2016 that
55 individuals who were public office holders, bankers, government ministers, state governors and businessmen stole 1.34 trillion Naira ($6.8 billion) from Nigeria's public purse between 2006 and 2013.
Mallam Nuhu Ribadu, head of economic-financial crimes commission (EFCC) also reportedly said over $400 billion of the country's oil money was stolen by bad leaders.
Did you hear that?
Not SARS but bad leaders.
How gov't reacted to the protests
Murmmadu Buhari President of Federal Republic of Nigeria addressed the nation on the ENDSARS PROTESTS, 22nd October 2020
"It has become necessary for me to address you have heard from many concerned Nigerians and having concluded a meeting with all the Security Chiefs. I must warn those who have hijacked and misdirected the initial, genuine and well-intended protest of some of our youths in parts of the country, against the excesses of some members of the now-disbanded Special Anti-Robbery Squad (SARS)," Mr Buhari noted.
He said the choice to demonstrate peacefully is a fundamental right of citizens as enshrined in Section 40 of our Constitution and other enactments; but this right to protest also imposes on the demonstrators the responsibility to respect the rights of other citizens, and the necessity to operate within the law.
"As a democratic government, we listened to, and carefully evaluated the five-point demands of the protesters. And, having accepted them, we immediately scrapped SARS, and put measures in place to address the other demands of our youth".
According to the President, his government has put in place measures and initiatives principally targeted at youths, women and the most vulnerable groups in our society. These included our broad plan to lift 100 million Nigerians out of poverty in the next 10 years; the creation of N75 billion National Youth Investment Fund to provide opportunities for the youths and the Micro, Small and Medium Enterprises (MSME) Survival Fund, through which government is:
a. paying three months salaries of the staff of 100,000 micro, small - and medium - enterprises,
b. paying for the registration of 250,000 businesses at the Corporate Affairs Commission,
c. giving a grant of N30,000 to 100,000 artisans; and
d. guaranteeing market for the products of traders.
President Buhari touted his Government's achievements saying no government in Nigeria's political history has approached poverty-alleviation the way they have done.
"No Nigerian Government in the past has methodically and seriously approached poverty-alleviation as we have done."
And is that true?
If so, is it reflecting in the pockets of the people?
Preserve unity.
President Buhari understands that unity is key in every nation's development. So he emphasised his government's commitment to preserving that element.
" Let me at this point reaffirm the Federal Government's commitment to preserving the unity of this country," he assured Nigerians.
Aside, his administration will continue to improve good governance and Nigeria's democratic process, including through sustained engagement.
"We shall continue to ensure that liberty and freedom, as well as the fundamental rights of all citizens, are protected.
But remember that government also has the obligation to protect lives and properties, as well as the right of citizens to go about their daily businesses freely and protected from acts of violence."
Do fact-checking
Mr. Buhari has a piece of advice for the west and Nigeria's neighbours, including Ghana.
" To our neighbours in particular, and members of the international community, many of whom have expressed concern about the ongoing development in Nigeria, we thank you and urge you all to seek to know all the facts available before taking a position or rushing to judgment and making hasty pronouncements"
"In the circumstances, I would like to appeal to protesters to note and take advantage of the various well-thought-out initiatives of this administration designed to make their lives better and more meaningful and resist the temptation of being used by some subversive elements to cause chaos with the aim of truncating our nascent democracy.
Caution
President Buhari called on Nigeria youths to discontinue the street protests and constructively engage government in finding solutions.
"For you to do otherwise will amount to undermining national security and the law and order situation. Under no circumstances will this be tolerated. Your voice has been heard land clear and we are responding," he noted.
Also, he asked Nigerians to go about their normal businesses and enjoin security agencies to protect lives and properties of all law-abiding citizens without doing harm to those they are meant to protect. Let me pay tribute to officers of the Nigeria Police Force who have tragically lost their lives in the line of duty.
Assurance to the people
This government respects and will continue to respect all the democratic rights and civil liberties of the people, but it will not allow anybody or groups to disrupt the peace of our nation," he gave the assurance.
In conclusion, I will like to appeal to all Nigerians to give peace a chance. Nigeria is better than the images that have been blanketing our airwaves. But it will take a concerted effort to make it happen. Therefore, give your government another chance and let's see if it can implement or prosecute all the good stuff the president has outlined in his address.
By Gordon Offin-Amaniampong