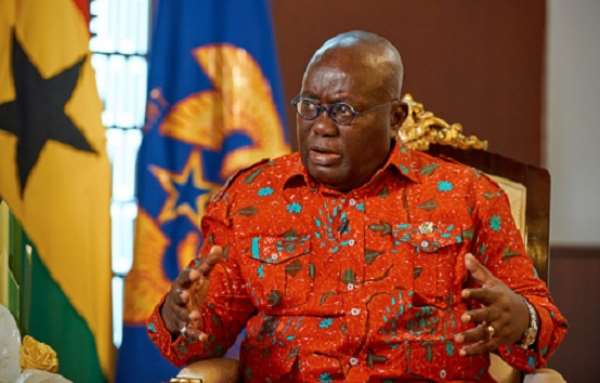 The President of Ghana, Nana Akufo Addo
Ghana's judiciary system is one of the weakest and corruptible legal systems in the world, however, to bring a change to fight corruption and improve its performance, have been some of the daunting tasks by the government of Ghana to handle today.
Decades after independence, Ghana, the country formerly called the Gold Coast, has gradually turned into one of the corruptible countries in the world, where elites or government officials involved in corruption scandals are spared, either to enjoy impunity or to keep their jobs.
The Ghanaian government has completely ignored the improvement of the efficiency of justice on the supply side, as well as the extension of their scope of application and implementation, the strengthening of measures to rationalize the demand for justice in the country.
Also, the judiciary system lacks the ability seeking to give greater coherence to the relationship between the resources and objectives of the justice system and the adoption of specific initiatives to fight corruption more effectively in the country.
Nana Akufo Addo, it is not the warning of Ghanaian judges not to involve in corruption or take bribes that will create a strong judiciary system but since there is no one above the law, it must not favour anyone who breaks the rule.
Your government has created a name by just putting chicken and goat thieves behind bars. This is completely wrong for the growth of any country, therefore, set a good example, Nana Akufo Addo, stop protecting your corruptible ministers, by saying all the time, "we are not corrupt."
Let them face trial in every corruption accusation or scandal and if found guilty, send them to the prisons. That is what is called an effective judiciary system.
Until that is done, nobody will take you seriously. I am not surprised that Nyantakyi escaped prison sentence because you collaborated with him in the biggest sports corruption in Ghana since he had you in his pocket.
Until I see the improvement in Ghana's judiciary, I will never stop writing about it. I feel so happy to say that Ghana's judiciary not only stinks but corrupt. Gloria Akuffo was the worst ever appointed Chief Justice who promoted corruption, instead of efficiency.
I am surprised she has no shame to keep her mouth shut but always wants her voice heard with bogus stupid advice to court officials or judges. In fact, her corruptible influence in Ghana's judiciary system was like a virus that didn't only spread but has caused serious damage to the country's judiciary system.
Increasing human security and reducing violence requires effective preventive tools from civil society and law enforcement mechanisms from the public sector. For the rule of law to have meaning, these mechanisms should ensure concrete access to conflict resolution institutions.
The Ghanaian government must recognize all segments of society to remedy individual and collective demands, thus ensuring respect for political rights, civil, social, cultural and economic sanctions enshrined in the various conventions of the United Nations, legally ratified all over the world.
I can hear the voice of the Health Minister, Mr. Kwaku Agyeman Manu, begging new doctors to accept posting to villages, yet, the absence of public goods and services, such as drinking water, health, good roads, create insecurity and make life unbearable in rural areas. What's the Ghanaian government under NPP doing about that?
Nana Akufo Addo, human security must necessarily go through greater access to public goods and services, each of which defined as a human right. In particular, the existence of mechanisms that support the right to justice constitutes one of the foundations of human security and socio-economic development.
Therefore, Nana Akufo Addo, it is necessary to dismantle any criminal networks capable of undermining respect for human rights, in general, and access to justice, specifically in Ghana. Stand at the helm and stop relaxing like a passenger on a travelling ship.