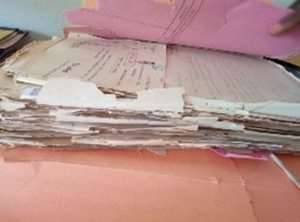 If original document is scanned and sent to Email, printed thereafter, is it a valid document? Ghanaian Mission abroad says "no". While l insist they should. Especially when document as such was accepted and approved by institutions in both France (CAF) and Spain (SEPE)
Decidedly, bureaucracy will tell you that any document to be presented in any official department or institution ought to be in its original form. But bureaucracy is cold-hearted and sometimes irrational. It has to be goaded, if the need be, to be at the service of the people, not the other way round.
We take similar lesson from the bible, when Jesus taught relevance of service to people and the Sabbath day "law". In sum, things can be done contrary to the norm when there is sufficient reason and need to do so. Except it largely depends on mindset, perception and professional capacity of individuals at helm of affairs
The idea of a yo-yo (Africa/Abroad) transfer of the original documents via traditional courier service being the position of the Ghana Embassy officials based in Spain appears myopic, if not mediocre to me in 21st century. lest l commit bureau-diplo cum legal blunder
Especially when those making such requests are the ones supposed to be savvy with the term and the very people from whose country the documents come from, making it easily recognizable even if it is not in its original form
The seals, crests, the embossed features, even if photocopied should be readily noticed. More so, when the holders (owners) and bearer (carriers) of such documents aren't on the same side of the continent
The norm that regulates foreign documents is just diplomatic embellishment which consists of translations, (scenario of differences of official languages) subsequent endorsement of the diplomatic representative of the foreign country in the country where document originates. To many, Ghanaian birth certificate obviously is foreign document. Sometimes this process apparently "overused" is ignored
I have to prove the birth of my child/ren in Ghana. It was ordered by employment office (SEPE). This option of unemployment allowance is considered for potential beneficiaries who have child/ren. The limit is the same for one child as more
I haven't enjoyed any benefit from the state for very long time. So as l prepare to leave for Switzerland where am pursuing a course. Due to high cost of life in Switzerland, thrice the average European. I decided to apply for the benefit so on the return, there is something to fall on
So l took a bus from Zaragoza which is more than 400 kilometers from Madrid. I alighted at the interchange of 'Avenue America'. I continued with sub-train carriage way to Cuzco, a suburb of Madrid. Santiago Bernabeau (Real Madrid Football Club Stadium ) is a step away from the Ghana Embassy
Filled with confidence and optimism l doubled my steps in anticipation of long queue which is synonymous to Ghana Embassies.
Five months ago, almost six years of the last visit to the Embassy, l didn't have my way. It was Sister Afiaa who attend to me. Previously l got lost, the name of the street where the Ghana Embassy is located has been also changed. The change is simply due to change in government and policies
In that, those who spearheaded the Spanish civil war cannot have themselves named after the streets. When l finally made to the Embassy, l was unexpectedly turned way for not having "Vida Laboral" (record of successive companies and period of work). This would have been avoided had the personnel of the Embassy picked calls for prior information before embarking on the trip
October 21 2019, this time l met all the requirement. It took a sneak to get there. Then l sat calmly in the waiting room. Familiar faces stare at you. Prominently displayed is the portrait of president and his ministers which whispers "AKWAABA"
We are at home, this is first time all black people speak the same local languages; Twi, while scanty speak Ewe and Hausa. Is time to while away the nostalgia. There was sporadic expression of surprises as friends meet each other for years. Above all, attitudinal disposition has to be at is very best
Gone are the days when similar portrait displayed ex-president John Dramani Mahama and his ministers. At Mahama's, the staff exhibited high level of professionalism, tolerance and sometimes compassion. Which in itself is reminiscent to Ghanaian society
At Akufo-Addo's, the transaction costs or prices have changed (increased) while compassion has fallen through the cracks. What we have now is highly improvised Ghanaian Mission, citizen documentary screening
When it was my turn to present my mission (pardon the pun). Everything went smoothly until I presented my daughter's birth certificate. Momentarily, a tense verbal brawl ensued between myself and Sister Afia. With intensity of fiends, the kind that could alert law enforcement authorities. I was told they did call the police. The police didn't come anyway
Notwithstanding, l haggled my way insisting, given the legal implication, l cannot have my daughter's original document with me here abroad. l made her scan and mail it to my Email address and printed thereafter but she wouldn't give in
It took some few minutes to ascertain the so-called "Ghana is in the news". The Ghana is in the news narrative, a supposed ordinary Ghanaian documentary fraud, catalyst for excessive scrutiny or the paranoia has to do with big time illegal diplomatic deals which caught the attention and expression of disgust by authorities in Spain actually put the nerves of the nuevos 'Missionaries' at peak. It has nothing to do with the citizen documentary processing that grants the right for little token we crave for
The lies, is just a knee-jerk strategy to put you in supine position in order to swallow any procedural garbage churned with narcissistic appeal. That Ghanaians are fond of forging documents to be presented here abroad is completely laughable. Gone are the days when asylum seekers used fraudulent documents to get allowances all over the places. The systemic arrangement nowadays is robust and strictly auto-updating making practically impossible for fake documents to pass through
It was Mr. Efraim, deputy head of mission in Spain who came out of his abode to psychologically nudge and inculcate spirit of "patriotism" in me. That the function of diplomatic mission far outweighs citizenry individual whim
Oddly, the 'vida laborale', completely worded in Spanish, though official document, hasn't been issued by authoritative body with seals, stamps et al. It is a photocopy obtained readily available online and printed by "Locutorio", business center or Internet-cafe. That 'vida laboral', apparently imposed by Spanish authorities, without any institutional justification, is sheepishly recognized and that of Ghana no, is preposterous
Ultimately l left unsuccessfully, after apologizing to entire household including Sister Afia but keep wondering if l have been given the fair share of the cake
What would have been convivial moment turned sour when l find myself at the short end of stick. I left for the second time without getting consulate certificate; A certification of child-birth by the Embassy for Unemployment benefit for Ghanaian citizens abroad
If things are now strictly done for better, some of us willing to pay the price. But when l draw the line between PDS, a multi-billion dollar corruption scandal, the document used, the cursory scrutiny and the hasty approval, l find myself gasping
My case is not far different from those of majority of Ghanaians abroad, in one way or the other that has become culture of Ghanaian Mission-citizenry diplomatic juggling in recent days
Richard Agobodzo
Link up to connect to Richard Agobodzo on Facebook. You can also contact the author through [email protected]