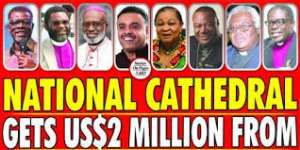 This is the first time in Ghana's post-independence history that an overtly religious agenda has become policy and the State is being compromised. The so called national cathedral is bulldozing its way to get a pride of place at one of the national capital's prime spaces, Ridge, Accra. As the destruction of taxpayer buildings is taking place to make way for this sectarian development, the Church of Pentecost has cut sod to build a prison. The Chairman of the Church, Apostle Eric Nyamekye did the honours on Sunday July 21 2019. The "ultra-modern prison facility would provide relative comfort and enhance rehabilitation and reformation of inmates", according to a press report.
This Pentecostal gesture, as touching and welcome as it may be, exposes serious dislocations within the Ghanaian system. The Church is right to be concerned: Ghanaian prisons are among the most egregious examples of negative human rights practices, where human beings are treated only a notch or so above animals – from malnutrition to overcrowding to lack of healthcare.
Ironically, with all such glaring lapses in priorities, the government is making the construction of a church building (National Cathedral) its "priority of priorities" applauded by senior members of the clergy. The government's foray into theocracy with the proposed construction of the "national" cathedral and the Church of Pentecost's proposal to build a prison, represent such a bizarre reversal of roles as to be farcical.
"Who builds cathedrals? Who builds prisons?" could be an exam question in civics for JSS students and they would all score 100% because the answer is so simple and obvious. But it does not seem so simple and obvious to the current Ghanaian government, which would score 0% with its concept of priority of priorities!
It is not uncommon for religious bodies to put up educational and vocational institutions, health facilities and their own "mega" worship show places of worship, but for one to build a prison, that must be either one brazen act of State capture or sign of State failure.
The Church of Pentecost does not hide its proselytising mission as captured in the report: "The 300-capacity prison with auxiliary facilities such as vocational and technical training workshop, recreational centre, a church building and administration block being put up in the Nsawam Medium Prison Camp is part of the Church's Security Based Development Projects captured in its Vision 2023 with an overarching theme: 'Possessing the nations.'" That is the role of the Church and therefore putting up a prison with an affiliated church building and not a mosque or synagogue or Hindu shrine is understandable, but not the government putting up a church!
There is desperation in the land, not on the part of the religious bodies, but on the part of a government which has abdicated its premier role to provide secular space for our constitution/democracy to thrive, and instead is surrendering to esoteric and perhaps even occult stratagems.
This so-called national cathedral is nothing but an abuse of electoral mandate. It does not enjoy a wide appeal even among Christians. Organizations like the TUC, COMOG, and the association of traditional healers, which earlier expressed disapproval have all gone quiet as this disuniting and sectarian edifice takes root.
In researching for this commentary, opinions on the web were sampled and though there were approvals from a few comments, generally, the following were the kinds of comments that predominated:
Madness
Useless, aimless, pointless, purposeless (unprintable) president Ghana has ever had (…the rest unprintable)
I don't think it is what you insulted JM to win power
I want to cry ( a tearful smiley sign)
What is wrong with us ah!
I give up Ghana
Incredible! Ghana!!!
Oh Jesus? How?
2017 buildings being demolished in 2018, aaaaa what a useless government
With the connivance of GREEDY CRIMINALS IN CASSOCK
If you have a government who does not think, this is what happens
Sometimes I wonder if our president is really an old man. I think God has denied him the wisdom of old age…
Thanks to Nana Addo-led government, Christians are grateful…
It is not a universally accepted "project" and its sectarian nature can be seen in the line-up of the management committee: In March 2017,
Most Reverend Asante Antwi was appointed by the proposer of the cathedral, Nana Addo-Danquah Akufo-Addo to chair the committee with Archbishop Charles Palmer-Buckle (in his personal capacity) as Vice Chairman, and Prophet Kusi Boateng as Secretary.
Other members: Apostle Opoku Onyinah, Rev. Joyce Aryee, Rev. Cephas Amenyo, Right Rev. Offei Akrofi, Archbishop Nicholas Duncan Williams, Rev. Eastwood Anaba, Bishop Dag Heward-Mills, Pastor Mensa Otabil, Rev Dr. Frimpong Manso and Professor. Emmanuel Martey. Note: No other religion, no traditional ruler or priest, no CSO (Civil Society Organization) and crucially, no representatives of the people from Parliament. This cannot be a "National" institution and only points to a nascent sectarian intrusion into our affairs of State, which must not be taken lightly. Sectarianism has been the bane of many countries: Northern Ireland (Catholics and Protestants), Lebanon (Christians and Muslims), Kashmir (Muslims and Hindus), Afghanistan (Taliban, ISIS and the rest) – to name some of the most violent examples. For a politician to cavalierly say he promised his God a cathedral on the very sensitive secular issue of an election and actually go about imposing it the way it's being done in Ghana, is to recklessly expose the country to a potentially explosive powder keg. Consider this scenario: Dr. Mahmoudu Bawumiya making a similar pledge to his Allah to construct a National Islamic Education Centre or for that matter an atheist putting up a National No God Facilitation Centre in the same way as this so called national cathedral is being imposed. It is a dangerous precedent this government is setting…That is why even as the constitution guarantees freedom of worship, it does not encourage the State meddling in religion.
But the Catholic Church, in a very courageous principled stand has refused to be railroaded and is demanding answers. The Chairman of the Catholic Bishops Conference, Most Rev. Naameh was reported in a press reaction last week to have said he had written to the cathedral management committee to "send us the Statutes... Thus what the Cathedral is going to do, who is going to be in charge…" Two years on, they have received no answer but the project is still smashing ahead.
In this bizarre situation of the secular State of Ghana building a cathedral and a church denomination building a prison, all the "Men and women of God" who have lent their names and reputations to this cathedral thing will have to carry on their consciences the abetment of the misuse of electoral mandate and abuse of office. When sectarianism grows into uncontrollable social upheaval, it often starts this way…It is not too late for the Men and Women of God to dissociate themselves from this purely partisan political gambit in the name of their religion.