It Is Obvious That Many Ghanaians Now Live In Fear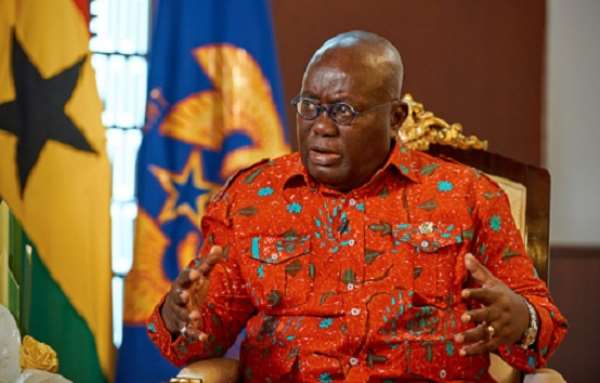 The current Ghanaian leader, Nana Akufo Addo
In the political history of Ghana, it could possibly be that the last time Ghanaians were actually confronted with fear in their lives was when Rawlings took over power by the military.
Rawlings voluntarily stepped down as Ghana's leader in September 1979 and Hilla Limann became the next democratically elected president.
Just two years on the throne, Rawlings removed Limann from power, saying: ''Have seen nothing but repression.'' 'A Pack of Criminals.' ''They were a pack of criminals who bled Ghana to the bone,'' Rawlings, who was then 34 years old, said of Hilla Limann's government.
Can Rawlings agree with thousands of Ghanaians, including me that the current state of Ghana is in a complete mess and the economy is severely destroyed beyond remedy, while corruption has abnormally increased, taking into consideration the reasons he came to power by the gun?
The cruelty, abuse of power and the carnage which took place throughout Ghana, under John Jerry Rawlings generated tons of hate against him. Until today, many hate Rawlings to the extent that his advice to keep the country in good shape are welcomed with insults.
Even though Ghana is now relatively calm under the NPP government, that calmness is not genuine, due to the current frightening events taking place in the country.
It seems God speaks to Ghanaians yet, many don't hear his voice. Before Akufo Addo won the 2016 elections, he had previously tried and tried without success.
Now that he is president, the fact that he suffered to reach that position, the current Ghanaian leader continues to abuse the principles of democracy.
The killing of journalist Ahmed Hussein, the closing down of media stations, the arrest of Ghanaian journalists, have changed the political landscape of Ghana forever. It will be in Ghana's history that the NPP leader arrested Ghanaian journalists and shut down media houses to suppress information.
Thus; many Ghanaians now live in fear and wouldn't have anything to do with politics just to enjoy their peace.
This is very bad for the country and foreign governments whose embassies are in our country. Desperate people do desperate things they say, yet some actions wouldn't give you success, it may cause your own downfall.
Many Ghanaians, including Nana Akufo Addo, think Mahama or the NDC is a threat since it's the biggest opposition party.
In fact, if you are a very brilliant Ghanaian, with much knowledge on foreign politics, you'll actually, know that the NDC is not a threat at all.
The real threat which can kick Nana Akufo Addo out of power, if he disrespects democracy is a foreign government.
They have their embassies in our country and wouldn't allow one person to destroy what it has taken them several years to achieve, therefore, Nana Akufo Addo, please, respect democracy. and never ever dream of putting your hands on any journalist in Ghana again.
If journalists are arrested in Belgium, I should have been in prison by now because what I have written against the Belgian government or a country I am still living, can't be compared to what Ghanaian journalists write against you. I am very happy that whatever article I write the Belgian government reads it too.