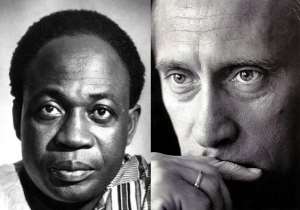 The late Kwame Nkrumah and Vladimir Putin
Modern technology has provided us the internet, giving millions worldwide, the opportunity to explore the world through the window, communicate easily and engage in global diverse businesses, yet the same world-web is very dangerous, often carrying false information or terrorists using it to execute their dangerous plans.
In the past week, I have been trying hard to find out the genuinely of a statement made by the Russian leader, Vladimir Putin, about the African continent, with the caption: President Vladimir Putin Opens Up On Africa. The statement reads:
Africa will never be independent, Africans believe in Europeans, Americans, and Chinese more than themselves -they don't trust themselves at all, African technocrats/ engineers aren't given the platform to practice what they studied but instead, they hire Chinese to construct roads for themselves
A white man will commit a crime in Africa but no action will be taken because the African authorities view us semi god's, far from the truth. A black man can be abducted in Europe get harassed and even be killed but no African authority can even question.
Africans present themselves as weak people with no hope, especially when dealing with Europeans and Americans. They are their own enemies, they hate each other and this gives their colonial masters to continue exploring their Africa resources.
As far as I know, Africa is more God's chosen continent, Africa is a blessed continent and it's time for Africans to realize that they are in a place where Americans, Europeans and Chinese are jealous of and wish it should be them to be in there...
You can't compare African weather with any other weather... African soil Can feed the whole of Europe, America, and Asia but African problem is only one" THEIR LEADERS" the last president in Africa was NELSON MANDELA.
The significance of my research to find out if Vladimir Putin actually said this is that everything in that statement about Africa is true. It will be recalled that a few years ago, a statement made by the Russian leader, accusing American business tycoon and millionaire, of testing and spreading Ebola in the Democratic Republic of Congo also appeared on the internet. As usual, I quickly made research and found out to be true.
Reference in Holland newspaper: https://bit.ly/2Ix24vV - De Russische president Vladimir Poetin heeft de technische miljardair Bill Gates ervan beschuldigd een ebola-epidemie in Congo te hebben veroorzaakt door te "experimenteren" met arme Afrikaanse dorpsbewoners. Putin beweert dat de oprichter van Microsoft Congolese stammen heeft met een zeldzame stam van het Ebolavirus als onderdeel van een onderzoeks- en ontwikkelingsproject naar "biowapens".
This is the English translation: Russian President Vladimir Putin has accused the technical billionaire Bill Gates of causing an Ebola epidemic in Congo by "experimenting" with poor African villagers. Putin claims that the founder of Microsoft has Congolese strains with a rare strain of the Ebola virus as part of a research and development project on "bioweapons". End of translation.
We shouldn't forget that Bill Gates and his wife Melinda say they want to heal the world, especially, Africa and get rid of dangerous diseases in the continent, instead, Bill Gates' Foundation, has collaborated with the US government and the World Health Organization, to reduce the population of Africa by introducing vaccines, including malaria, causing infertility on the continent.
After visiting the Dutch scientist Johan Van Dongen and the German doctor, Wolff Geisler, I posted a number of articles pertaining to Bill Gates medical crimes in Africa but on each occasion, I am attacked. The last attack I can remember occurred this week. After posting the article entitled "Why I forced Scientist Dongen And Dr. Geisler To Join Me On ModernGhana News...And what have you people achieved till now with all your exposes? NOTHING!!!"
"Joel Savage, just google to see, how many (other) people have written about how your own "white friends" artificially made and Spread HIV/AIDS with the aim of killing Africans. You see, you are also seriously ignorantly mislead and now, also allowing yourself to be walked over by your "so-called white friends", only to wake up later and make a noise."
We live in a world people wouldn't like to speak the truth, therefore, no matter what crimes white people have committed against Africa if one of them will come out to speak the truth is something Africans must appreciate because the truth is better and educative than lies. I don't think there is any African writer out there who wants the fall of Africa, therefore, there are certain comments which aren't necessary.
It worth rather asking: what is the present position of Africa decades after independence swept through the continent? This reminds me of "Our independence is meaningless unless it is linked up with the total liberation of Africa. That new African is ready to fight his own battles and show that after all, the black man is capable of managing his own affairs."- Kwame Nkrumah
If this statement was made by the Russian leader, then whatever in that written-piece is nothing but the truth. In my opinion, our woes have increased in Africa because it's hard for thousands of Africans to believe that the US government, the World Health Organization, the Centers for Disease Control and Bill Gates, are killing black people, despite the health conditions of both original Africans and African-Americans have deteriorated at the same time with HIV-Aids and breast cancer.
However, it will be very easy for any Ghanaian to believe the false information that Nana Akufo Addo has a hotel in Jamaica, yet this Ghanaian leader hasn't anything like that. We as Africans must begin to treasure ourselves as human beings. We must build a solid foundation based on love and peace, that will enhance and remind us with these words:
"That new African is ready to fight his own battles and show that after all, the black man is capable of managing his own affairs." Kwame Nkrumah