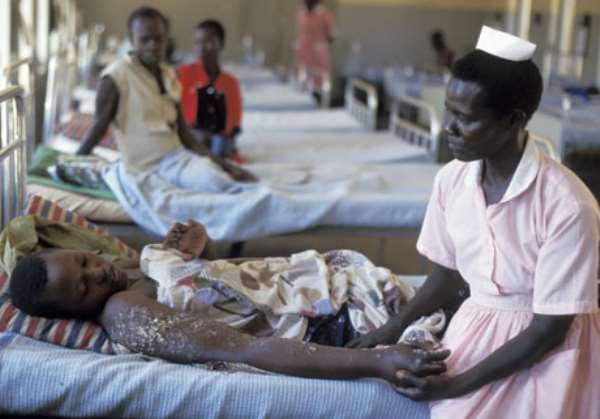 A nurse holds the hand of an Aids patient
The fear of family members, a friend or health worker, serving an HIV-Aids patient, contracting the disease, is a common issue. Getting diagnosed with HIV/Aids is not only the beginning or greater part of the victim's trouble over the way society neglects and discriminates against the patient but also can send the victim early into his grave.
Many people without much knowledge about Aids and how it infects view that an HIV-infected person is dangerous for the environment. Practice shows that people caring for the sick, even knowing that the probability of infection is small, still have concerns.
For example, they are afraid of getting infected through feces or other human secretions. These fears are natural. If caregivers can do their job without haste and adhere to the rules of hygiene, fear usually passes quickly.
People prone to fear should avoid its external manifestation, as the patient feels that others are tense, and this can cause him heartache. It's always better to ask a qualified doctor or nurse how to take care of a relative suffering from Aids, to take proper care than to neglect the person.
If the fear of getting infected does not disappear even after the issues were discussed in detail with a doctor or nurse, the best thing to do is to find someone in the medical field to take care of the victim, that's if you can pay the bill.
The person caring for the sick must necessarily and constantly follow the rules of hygiene and how to take proper care of an HIV-Aids patient.
When there is a chance of becoming infected with HIV
The danger of infection exists only through contact with blood, semen, and vaginal discharge. There is HIV in urine, feces, vomiting, saliva, tears, and sweat, however, taking the right measures in taking proper care of a victim is not dangerous as many people view it.
The implementation of the rules of hygiene is mandatory to prevent infection with any other infectious diseases.
If there is direct contact with feces, urine or vomit (there is a risk of infection with other infectious diseases, such as intestinal infections);
.
A nose-mouth mask is needed to prevent the spread of any disease or infections transmitted through coughing and sneezing, in particular, tuberculosis. An apron is necessary to protect clothing from contamination by feces, urine, vomiting, etc.
Cleaning and disinfection
The difference between cleaning and disinfection is that during cleaning only contamination is removed, and during disinfection, they kill infectious agents, including HIV, using disinfectants.
When only cleaning is done
At home, people with HIV infection should always be cleaned. The use of disinfectants is necessary if there is a risk of infection with opportunistic infections, such as tuberculosis.
The pieces of furniture and the floor should be disinfected only when there is a risk of HIV infection, that is if they are contaminated with blood or vaginal discharge.