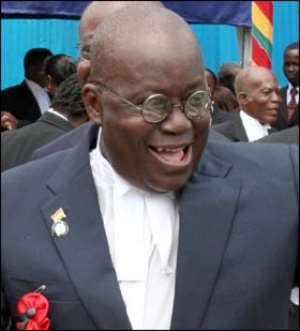 Akufo-Addo
Folks, those of us who have chosen to isolate particular happenings in Ghana to comment on as part of our yeoman's job will not shirk our responsibilities for as long as ideas crop up to pique our interest.
We will focus on such ideas and feed public discourse with our interpretation(s) of them and their impact on contemporary Ghanaian politics in the hope that those who "follow" us in the public sphere will judge things for themselves. I am positioned to do so at any time of the day.
Here is one particular angle that I am swinging into right now.
Whatever motivated Akufo-Addo to look for allies in two major planks of influence in his effort to achieve his childhood ambition of becoming Ghana's President "at all costs" materialized at his victory-of-sorts at Election 2016. In power, he has demonstrated much for us to know a lot about those constituencies.
I intend to unpack issues here, not only to expose the subterfuge and behind-the-scene manouevres but also to alert Ghanaians to the seed of discord that Akufo-Addo has sown (or is sowing) to endanger the country's future political stability and peaceful environment.
Before going any further, let me reiterate that I am no fan of Akufo-Addo and will never be. Voters who put him in power must by now have known why they did so. Those who kicked against him must be biting their thumbs now that their fears are being confirmed day-in-day-out.
(Kofi Coomson of the _Ghanaian Chronicle_ newspaper had warned Ghanaians long ago but they slighted him. He hasn't been heard of in public discourse for nearly 10 years now. He sought frontline positions in the NPP in the Sekondi-Takoradi area only to be ditched because of Akufo-Addo's brow-beating influence. Is he still alive, though?)
The rush to use the clergy said much. We saw how Akufo-Addo desperately stooped low to engage failures at the JSS level, holding vigil nights with them when he lost Election 2012 but won't accept his fate. All those victims of circumstance (poor, lazy failures) gathered around him to create the impression that he had been cheated at Election 2012. The Supreme Court proved him wrong. Pooh!!
Forward everything to Election 2016 when the NDC failed to do its homework, creating loopholes for him to exploit and to be in power. Of course, since then, nothing shows that he has learnt to know that the sweetness of the pudding is in its eating!!
Back to track. I sought to use two main constituencies that Akufo-Addo exploited to be where he is today but can't see his way out. Governance (as john Mahama had told Akufo-Addo long ago) is not about emotions but level-headedness in knowing what the people want and giving it to them, even if the narrow circumstances of the country don't permit it.
I will land now. Akufo-Addo used the NPP's lackeys in the mass media and the religious community (particularly the Christian sect and some in the Muslim denomination, capitalizing on the strategic choice of the dumb-ass Bawumia to effect).
Now in power, forces are confronting forces mobilized by Akufo-Addo.
The ubiquitous Kweku Baako has gone underground for many months now, especially after being confronted by the most despicable of NPP politicians (Kennedy Agyapong) in terms of the so-called investigative work done by Anas Aremeyaw Anas that was so ground-breaking as to threaten the foundation of the Akufo-Addo Establishment.
Agyapong jumped out of his skin to lock horns with Kweku Baako and Anas, threatening to expose them for doing worse than their documentary on Kwesi Nyantakyi portrayed. And Agyapong warned Baako to keep his mouth shut or be "finished". Interestingly, he has obeyed that command.
Anas and Kweku Baako have gone underground lijke crippled submarines despite all their above-surface manouevres ostensibly aimed at helping Ghanaians know how deep-seated corruption is in the system.
Taken on, they have vanished into thin air. Nothing from them, especially Kweku Baako to neutralize Agyapong. Isn;t Agyapong right, then, that much water is passing under the bridge in the kind of sophisticated corruption that Akufo-Addo has brought about?
In any case, do these people have the heart to sacrifice any of their own to clean their conscience? The cowards that they are, they can't do so.
The next segment in this complicity involves the so-called "Men-of-God" that Akufo-Addo has surrounded himself with. We know what is at stake and will monitor everything they do in the open or in secret so we can expose them and pout them on the spot. Such charlatans are Ghana's major headache. Whatever they steal now will be exposed and retrieved when the time comes.
To cut everything short at this point, let me say that Akufo-Addo is muddying the waters by using journalists and the so-called coterie of "men-of-God" to reap where they haven;t sown anything.
The truth is that the deprived Ghanaian is more interested in how the government can solve the practical problems of existence (lack of infrastructure for the schools, hospitals, etc.) than the flight into spiritualism through the "National Cathedral" and all the phantom political nonsense issuing forth from Akufo-Addo.
Finally, when the people make up their minds, no amount of witchery through such phantom projects or prayers issuing forth unrepentant thieves like Mensa Otabil will retain Akufo-Addo in power.
And when the scale tilts, I hope they will be "men" enough to face their fate. If they can do so, they should learn how to deal with Rawlings!!
I shall return…
By Dr. Michael J.K. Bokor
(E-mail: [email protected] )
Wednesday, August 29, 2018