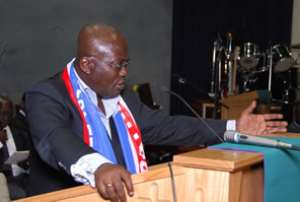 Akufo-Addo
Folks, the indecent haste with which Akufo-Addo began sensitizing Ghanaians (especially those seeing things in the tunnel-vision spectrum as he does) for balkanizing geographic/political administrative regions constituting Ghana just to prove that he is fulfilling his impulsive electioneering campaign for purposes of rapid "development" is alarming for all that it portends.
In that operation, Akufo-Addo created a whole Ministry that has done nothing to add value to Ghana. Public funds have been expended on it all this while it hasn't added anything substantial to improve living standards. What sort of political mischief is that?
Misplaced priorities here. Rapid development doesn't have anything to do with geographic or politically determined territories. No matter how big a geographic region is, it can be developed only if those in control of the national coffers wear their thinking caps properly (at the right angle). It doesn't have anything to do with how small or big the area is.
Can we pause to find out what benefits have accrued to Ghana after the Electoral Commission increased the number of constituencies to 275? Or anything else done to establish the political entities all over the country?
Such "development" in terms of political configurations is zero in Ghana.
Of course, the creation of "regions" has more to do with cultural and other factors than the so-called politically determined focus on "development" that has motivated Akufo-Addo to waste huge sums of money on the carving of new regions (to the extent of creating a whole Ministry for it).
The spate of dissensions all over the country suggests that the Akufo-Addo agenda will cause more trouble than solve whatever problems Akufo-Addo and his clueless government thought were hindering the development of those regions as presently constituted.
Has anybody in this useless Akufo-Addo government found out what is happening in the Ashanti region (that was excluded from the balkanization agenda) as far as development is concerned? The problems there are the same as is in the regions targeted for balkanization. So, what is the sense behind the balkanization?
In truth, the development of Ghana has nothing to do with geographic regions. It has to do with how sensible the leaders are and how they commit themselves to knowing the existential problems of the people and devising means to solve them. So, why isn't Akufo-Addo listening to the voices of dissension to hasten slowly?
So far, strong and terrible signals against this balkanization have come from the Northern Region and the Volta Region, particularly. These are areas fit considering as "storm centres" in Ghanaian politics. Those who don't know why should do their homework. They are leading the fray to send warning signals to Akufo-Addo. The import? Ghana will survive without the trouble-making Akufo-Addo.
If Akufo-Addo knew better how to manage affairs, he would have known by now that these happenings undermine his authority/integrity. Should he not listen to these dissenting voices to make amends instead of digging in to worsen the situation? A reasonable and problem-solving would do so. Only those bent on worsening the situation would dismiss such dissension as worthless (as Akufo-Addo indicated when he told the Ketu people a few days ago that their opposition to the balkanization of the Volta region was needless.) Does Akufo-Addo have a thinking cap?
The truth is that such signals portend danger, especially if we consider the apprehensions against cultural and ethnic aspects of the balkanization (separating people from their ancestral homes and pitting them against each other for political expediency as is the sorry case of North Korea and South Korea).
And there is no doubt that having simmered all this while without Akufo-Addo's re-consideration of the move, the anger in the opponents will explode sooner than later to prove Akufo-Addo wrong in this manouevre. This threat is eye-popping and shouldn't be ignored. It will turn Ghana into what is hurting countries whose leaders did things without factoring in the feelings of the people. Terrorism begins therefrom!!
Specifically, what is emerging from the Volta region is explosive. We have heard from the chiefs and people of Akpafu and Togbe Afede to forewarn us (See
We have already heard of the group agitating for the separation of the Volta region from Ghana (the so-called Western Togoland Movement).
What Akufo-Addo has set in motion is frightening, especially considering the massive opposition against it from the Volta Region as Togbe Afede (a supposedly sympathetic Akufo-Addo follower) has stated (See https://www.ghanaweb.com/GhanaHomePage/NewsArchive/Commission-of-Inquiry-can-t-exclude-regions-to-be-altered-from-voting-Togbe-Afede-694289 and many others that haven't been published.
The truth is that this deep-seated opposition against the balkanization agenda of the NPP under Akufo-Addo will hurt Ghana more than build it.
It is clear that those living in the existing geographic, political, administrative regions haven't attributed their deprivations to where they belong. So, what is the justification for splitting them culturally and ethnically?
We are not even talking about happenings in other parts of Ghana earmarked for balkanization. How can Ghana live up to its credential as "one nation, one people" if the government hastens to split ranks?
For now, we can openly say that Akufo-Addo's agenda for Ghana is terrible. Nothing is working well under his rule. Clearly, those who put him in power must be biting their tongues and hoping for the next opportunity to use their franchise to do the right thing so they don't jump out of the frying pan only to land in the hot-red fire beneath.
More stiff opposition is expected if Akufo-Addo doesn't listen to reason. That's my take. What is yours, folks?
I shall return….